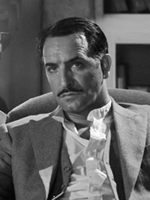 Today began, as already conveyed, with the first-ever screening of Alexander Payne's "The Descendants." I managed two more films, one of them capsuled here. I'll get to "Albert Nobbs" separately, but just to clean my plate a little…
Hazanavicius's 'Artist' doesn't quite reach the hype
There is very little doubt in my mind that we'll all be talking about Michel Hazanavicius's Cannes sensation "The Artist" over the next six months. The film will generate a lot of respect from Academy members who understand that getting a silent film made in this day and age, let alone a popular one, is an amazing feat. As is well-documented, the film speaks to the industry's history with reverence and passion, is impeccably crafted (which will generate support across the branches) and features a lead performance that is easy to root for.
Nevertheless, I'm much cooler on this effort than most have been up to now. I read in the Telluride program that one of Hazanavicius's expressed intentions was keeping the story as simple as possible. Researching silents, the director "quickly observed that as soon as the story starts to grow unclear, you lose interest," he's quoted as saying. But I feel that therein lies my issue with the film.
The story is paper thin. It maintains a straight line and never really hits peaks or valleys. Jean Dujardin's character, silent film star George Valentin, seems to reach the end of his arc sometime just after the end of the first act, and though there is a certain journey of understanding for Valentin (who early on finds himself washed up in the wake of talkies), the film seems to grind to a halt for much of the second act.
But Hazanavicius nevertheless accomplishes what he sets out to do. The film holds your interest if only due to Dujardin's powers of expression. And there are intriguing directorial approaches (such as a brilliant sound scene early on that cleverly depicts Valentin's anxieties about the brave new world of Hollywood film production). But even though it may have been a tip to simpler narratives from simpler times, I found myself wanting more substance than the director was willing to give.
Regardless, my opinion of the film does little to change my awards expectations for it. There is a narrative to be built around this thing, and Harvey Weinstein is the king of crafting those narratives.
Wenders makes the case for art house 3D

I decided to skip the Martin Scorsese/George Harrison documentary today because it just seemed wrong to get up half-way through to make it to "Albert Nobbs," so I figured I'd take in a full film in the interim, instead. Guy has already written glowing things about Wim Wenders's "Pina," an ode to modern dancer Pina Bausch, out of the Berlinale in February. So I'll keep this brief, but to start, it's a film over two decades in the making.
Wenders saw a performance of Bausch's work in Venice back in the mid-1980s that reduced him to tears and convinced him he would love to make a film of the power he saw on stage. Bausch was game, but Wenders was creatively paralyzed. He never could figure out how to film dance in a dynamic way, despite digging into the various examples throughout the years. (Picture that, Wim Wenders putting on "Flashdance" for a little research session.)
It wasn't until the 2007 Cannes International Film Festival that a light bulb went off for the director. There he caught a screening of "U2 3D," the first 3D concert film taken from the Irish band's 2006 "Vertigo" tour. Wenders suddenly found a way in, and it's interesting that while blockbuster filmmakers like Robert Zemeckis and James Cameron were tinkering with the technology, Wim Wenders of all people was busy potentially making a clearer case than them for the technology. (And it's also interesting to note that "U2 3D" was probably the first film that began selling a lot of people on 3D as a viable consistent filmmaking tool.)
The thing that sparked for Wenders was the chance to depict dance as it should be, relative to space and motion and thereby enhancing the sensory experience for the viewer. Indeed, no one has filmed dance so intimately before, and likely won't again for some time. But as a piece of experimentation (to say nothing of a touching homage to Bausch, who unfortunately passed in 2009 before seeing the film completed), it is very much worth digesting for filmgoers.
But to speak personally, I don't think I've ever fidgeted so much in a film in my life. You could chalk it up to the excessively warm Galaxy theater and being stuck mid-row, but I'll just come clean and admit that modern dance isn't my cup of tea. Nevertheless, it's an alternative to the way 3D is used today, and for a form that is in danger of being drilled down to a mere money-making element of the process, it's nice to inject a little depth (no pun intended) in the overall discussion.
[Photo: The Weinstein Company]