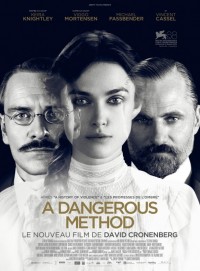 Venice Film Festival
"Do you think they know we're on our way, bringing them the plague?" So asks Viggo Mortensen's Sigmund Freud of his younger colleague Carl Jung (Michael Fassbender), as the two approach New York City to gift the untreated denizens of America with their equally grueling brands of psychoanalysis, in the closing stretch of "A Dangerous Method," David Cronenberg's thoughtfully embroidered account of their professional rivalry.
It's the sharpest line in corset-prestige specialist Christopher Hampton's script, adapted none-too-cinematically from his 2002 play "The Talking Cure." It is also, as most Freudophiles will recognize, one he didn't write himself — like so many of a writer's best moments, it was gifted to him by legend. Freud, luckily enough, had a pretty dry line in irony; drier, perhaps, than that of Hampton, who tackles his historical subjects' rich battle of wills and philosophies with the requisite scholarly enthusiasm, but is oddly cautious,  even a little po-faced, about the way he fashions intellectual debate into drama.
Handled by Cronenberg with characteristic fastidiousness but a surprising lack of perversity, "A Dangerous Method" will delight lovers of highbrow adult cinema of discussion and mildly disappoint those hoping the subject matter augured a return to the deranged, physicality-obsessed kinkmeister of old. (One half-wishes Cronenberg and Pedro Almodóvar had traded their most recent scripts at the Kit Kat-style bar where they presumably hang out.)
The film lays out its substantial thoughts on desire, masochism and trauma with a dense even-handedness that sometimes stimulates, but doesn't test the taste barrier by subjecting theory to allegory, as it were. Even the sexual content, involving Jung and his high-strung patient-turned-protégée Sabine Spielrein (Keira Knightley), is all but bracketed as literal case study, alternately enacting Jungian and Freudian principles without threatening to push things into unwritten psychological territory; that way lies madness, and Knightley's bravely bug-eyed performance in the film's opening third has already provided an elegant sufficiency of that for the tony audience Cronenberg appears to crave here.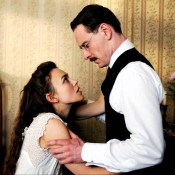 If this is a circuitous way of saying the film is artful but also a little airless, distinguished but also a little dull, that's because such blunt "go bigger" lines of criticism skate close to chiding a director for not making films he might not have in his system anymore: how long can one go on fighting tonal shifts in an artist's ever-growing oeuvre?
This cleanly reserved quality isn't a new development for the director: only their genre tropes make the restrained double-shot of "A History of Violence" and "Eastern Promises" seem wilder by comparison. And like those films, "A Dangerous Method" does feature fleeting stabs of old-Cronenberg baseness and curiosity: a rosy blotch of blood on Knightley's bedsheet after her first sexual encounter with Jung is a typically nasty (if perhaps aptly faded) detail, while the camera's loving caress of Jung's inscrutable measuring equipment during a tautly written analysis scene recalls the dehumanized process fetishization of "Dead Ringers."
"A Dangerous Method" certainly isn't as leashed and neutered as Cronenberg's last attempt to film a fine-bone-china theatrical piece, 1993's far thinner and less articulate "M. Butterfly" — see, the evolution has been under way for some time now — but even within a more subtly transgressive realm, it misses some key opportunities to excite. Visually, it's a markedly tame beast, with regular DP Peter Suschitzky's evenly sunlit lensing and James McAteer's tidy, unblemished production design lending the film an elevated, staged feel that may or may not be intentional — but even assuming the best, doesn't seem the best visual platform for already word-bound material. (Whatever I said about Hampton's writing at the outset of this review, "The Talking Cure" was a pretty self-ironic title.)
It's left to the actors to breathe life, as well as ambiguity, into this highly textual material, and it's a point of interest that they haven't settled on a common approach between them.
Knightley seems most married to a stage-oriented conception of the material: a divisively mannered actress even in her strongest work, she enters the film in a heightened, twisting frenzy, shrieking abrasively in a Russian accent whose artifice even sounds studied, and jutting out her lower lip to a contortive degree that has had more than one Lido wag joking that Cronenbergian body-horror is at least alive and well in her jaw.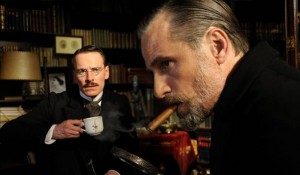 It's an all-or-nothing thespian gambit that doesn't pay off, but it leaves the actress with nowhere to go but down: the performance levels as the character approaches cure, though Knightley's archness remains in place.
As if terrified into submission by his co-star's entrance, Fassbender spends the rest of the film quizzically underplaying, his Jung permanently considering his words before releasing them so tightly he can suck them back in through his teeth if required; he gives the film a solid spine, but it's the more relaxed, sardonic delivery of Mortensen — plus Vincent Cassel, in a relishable cameo as a sex-addicted patient offering Jung seductive arguments for polygamy — that provides the film with its most immediate pleasures.
In a role smaller than the film's marketing would have you believe, Mortensen is so silkily persuasive an argumentative foil for Fassbender in the scenes they share that the narrative seems more a head-to-head than it structurally is. In once scene, the older man's classically Freudian interpretation of one of Jung's dreams oh-so-nearly tilts into an open invitation to take him to bed; that's a film a younger , nervier Cronenberg might easily have been coaxed into making.
[Images: Sony Pictures Classics]