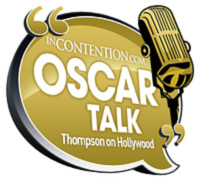 Welcome to Oscar Talk.
In case you're new to the site and/or the podcast, Oscar Talk is a weekly kudocast, your one-stop awards chat shop between yours truly and Anne Thompson of Thompson on Hollywood. The podcast is weekly, every Friday throughout the season, charting the ups and downs of contenders along the way. Plenty of things change en route to Oscar's stage and we're here to address it all as it unfolds.
Today Anne and I are both in the Colorado Rockies for the 38th annual Telluride Film Festival. We're joined today by Guy Lodge, who has been filing from the Venice Film Festival and has plenty to say about what he's seen so far. Let's see what's on the docket today…
• We kick things off with Guy's Venice coverage, in particular his thoughts on the three big films to screen there so far: "The Ides of March," "Carnage" and "W.E."
• Today kicks off the Telluride Film Festival, which has its share of exclusive early looks. Anne and I talk about what we're looking forward to and, in particular, get into "The Artist," which is playing here. (Both her and Guy caught it earlier in the year at Cannes.)
• With the film set to bow at Venice tomorrow morning, Anne and I figured it was as good a time as any to get into Steven Soderbergh's "Contagion," so we do.
• And finally, reader questions. We address queries concerning the non-festival strategy for "Young Adult" and, conversely, which films could take off from the festival circuit via word of mouth.
Have a listen to the new podcast below, with the trailer for "Contagion" leading the way. If the file cuts off for you at any time, try the back-up download link at the bottom of this post. And as always, remember to subscribe to Oscar Talk via iTunes here.
NOTE: I left my microphone at home (ugh) and Guy is using the usual laptop mic so audio could be a bit dicey this week. Apologies.
[display_podcast]

Back-up download: Oscar Talk Episode 59