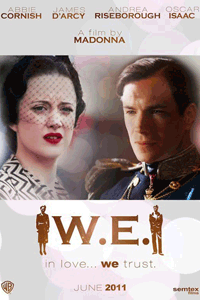 Venice Film Festival
There's such a bounty of ripe absurdities in Madonna's sophomore directorial effort "W.E." — an over-the-spectacles glance at the supposedly for-the-ages romance of Wallis Simpson and Edward VIII, blending the story of "The King's Speech," the structure of "Julie & Julia," the styling of "A Single Man" and the collected smarts of none of those films — that it seems positively ascetic to begin with the closing credits, but so I shall. Nestled in the final minute of a decidedly over-generous 120 comes the list of "Thank Yous," upon which you may or may not be surprised to encounter the names John Galliano and Leni Reifenstahl (sic).
The names may be there for perfectly fair reasons. Galliano is a genius fashion designer, and Madonna's film is nothing if not well-dressed. Riefenstahl was a genius metteur en scène, and Madonna's film is nothing if not — well, perhaps she just likes Riefenstahl's films, even if any claim of creative influence would be on the tenuous side. The irony of thanking two prominent alleged Nazi sympathizers, mere minutes after "W.E." goes to manful if unconvincing lengths to discredit any suggestions that the Duke and Duchess of Windsor had similar leanings, is incidental, and perhaps a little cheap to pick on, but merely one small symptom of Madonna the Auteur's astonishing lack of self-awareness.
This is a film whose big showpiece sequence involves a Dexedrine-high Wallis Simpson (Andrea Riseborough) dancing manically with a Masai tribeswoman to that august royal anthem, the Sex Pistols' "Pretty Vacant" (Sofia Coppola, oddly enough, is one female filmmaker not thanked in the credits), while her fellow poshos gurn before her like the audience at the Baz Luhrmann-curated Moulin Rouge. If we are to glean any meaning at all from this fearlessly demented scene, it could be that Madonna has just realized that the upper classes can be shallow and materialistic — a pretty rich epiphany for a film in which the joy of nice things isn't just implied by pornographically lingering shots of jewelery and La Perla underwear, but made into an active plot point.
This is a film, I wish to underline, where Abbie Cornish's parallel character Wally — an unhappily married 21st-century auctioneer whose fixation with her historical namesake is viewed as poignant by Madonna, and mentally ill by any other rational person — spends $11,000 on a pair of gloves and is congratulated by the narrative for her independent-minded impulsiveness as if it's a Suffragette-scale achievement. (If such an act doesn't soften us to this cloistered trophy wife's plight, the film reasons, the sight of her tearfully chucking thousands of dollars' worth of IVF medication down the bathroom sink surely will.)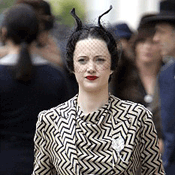 Madonna's celebrity makes her an obvious target for kneejerk critical ridicule, but it should actually be an advantage when taking on a story about the private lives of people who enjoy no such luxury as a private life anymore. Indeed, the film' most emotionally coherent, if still dramatically stunted, stretches are those which deal with Wallis and Edward's burgeoning yet fearsomely scrutinized romance.
Aided immensely by the wardrobe and makeup departments, a hard-working Riseborough almost sells Simpson as a woman of some agency before being defeated by the punishing lack of human interest in Madonna and co-writer Alek Keshishian's addled script: like Cornish's utter vacuum of a character, acquainted principally with Simpson through repeated visits to a Sotheby's exhibition of the couple's memorabilia, the film defines (and ultimately covets) the woman chiefly in terms of the things she owns. (Simpson at least has enough common nous to tell Cornish's moon-faced identity thief — in one of their occasional, embarrassing across-the-decades chats — to "get a life.")
If this irredeemably silly, self-admiring ode to life, love and all the fabulous bed linens in between is to be enjoyed at all — and future camp-classic value should not be underestimated — it should be in the same purely aesthetic currency that the director appears most fascinated by her subject. It's lusciously lensed by Hagen Bogdanski ("The Lives of Others"), even if Madonna has little rhythmic intuition as to how to edit this mood-board of beautiful shots together; Arianne Phillips's costume design (chalk up this year's annual awful but material-heavy Oscar nominee in the category) inventively merges opposing decades' maxi- and minimalist schools of glamor into one tonally consistent runway show; Abel Korzeniowski's plump score cribs so heavily from his work on "A Single Man" that you wonder why Madonna didn't just hire Tom Ford to direct the whole film for her while she went on tour.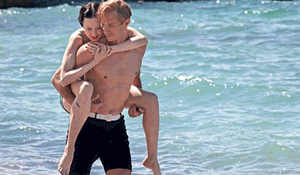 The film evidently aspires to the outsider success enjoyed by Ford's 2009 arthouse hit (which also debuted on the Lido, an environment more sympathetic than most to the artistic jaunts of non-film glam gods), which proved that stylistic excess can still reap emotional rewards given a crisp narrative focus and heavyweight lead performance. (It also helps not to saddle actors with tell-don't-show lines like, "I was a Russian intellectual, but now I'm slumming it as a security guard.")
"W.E." has neither of these things, but it has something at once more and less: the name of Madonna, which, as much as critical principle dictates otherwise, can't help but provide a context for her fatuous film's mile-long remove from reality, in which history and present alike seem to converge as one dazzling yet rigidly unmoving reflection of her own privilege. If she should thank any one name in the film's closing credits, it may as well be her own.
[Photos: The Weinstein Company]