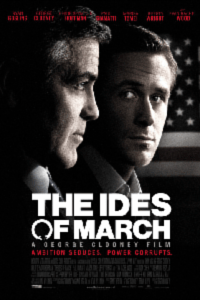 Venice Film Festival
"I'm not a Christian. I'm not an atheist. I'm not a Muslim. I'm not Jewish. I believe in the American constitution," intones a spiffily-suited and even fresher-faced-than-usual Ryan Gosling as the opening line of "The Ides of March," George Clooney's crisp, diverting and typically (even overly) studious political thriller.
Standing at the podium, he hesitates a moment — teasing us with the tantalizing possibility that he might launch into an even less rhythmic rendition of the rap interlude from Madonna's "American Life" — before the camera pulls back to reveal the context of the rhetoric: he's merely timing an address that his boss, a Brylkreem-slick presidential candidate played by Clooney himself, will deliver later.
It's the first of several occasions where the film strips political speech down to its mere machinations, and where the mind of one character is filtered through the voice of another. It'll come as no surprise to anyone familiar with Clooney's work as a filmmaker and as an activist that "The Ides of March" takes a wearily disapproving stance on the manipulations and (mostly bad) manners of US politics, prizing the candid idealism of Stevie Meyers, Gosling's gifted 30 year-old press secretary, over the more urbane truth-parsing of Clooney's Democratic hopeful Mike Morris — loosely inspired, as in the play, "Farragut North," from which the film is adapted, on failed 2004 campaigner Howard Dean.
Clooney and co-writer Grant Heslov aren't exactly subtle about setting the virtuously loyal young man up for a fall: "I'm not naïve!" Gosling insists over a drink with Marisa Tomei's justly sceptical Gray Lady political reporter. "I have drunk the Kool-Aid! I genuinely believe he [Morris] is the only one who can make a difference!" The dialogue couldn't be more nakedly, plot-servingly ominous if a time-code appeared in a corner of the screen to count down the remaining minutes of the first act. Will Morris turn out to be less heroic than his noble policy promises suggest? Will Meyers soon be taking a heavy-footed walk down Disillusionment Boulevard? Will Clooney's silver-fox presidential barnet remain dashingly in place through thick and thin?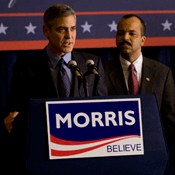 If you haven't guessed the joint answer to all these questions, "The Ides of March" may hold more revelations for you than for the rest of us: for a film that affects a jaded, it-was-ever-thus air about the reality of dirty politics (that title isn't exactly rich in ambiguity, either), the way it stares earnestly aghast at the characters' hypocrisies and double-crossings is itself naïve at best, and downright disingenuous at worst.
It's some trick to pull off acting both knowing and aggrieved, and Clooney's line in irony is too self-congratulatory (and therefore self-defeating) to get there. Taking corruption as a given, we wait for the film to reveal stranger, more perverse details and consequences of the campaign process — not least given the intimate narrative radius of a single Ohio Democratic primary.
What we get instead is an absorbing, occasionally witty liberal suit-opera on "West Wing" lines that nonetheless holds its juiciest sub-plots on a leash. The storyline handed ensemble standout Evan Rachel Wood, lithe, snappy and eventually affecting as a bright young intern whose attraction to Gosling unwittingly jeopardizes all three principals' careers, is initially the most promising of these, holding interesting implications about the longer ladder still reserved for women in politics — until the character is dropped in a datedly dismissive fashion that renders her entire arc a mere device. It's not the only respect in which Clooney and Heslov's  script resembles a highbrow Hollywood screed from the 1940s updated with some token references to the Drudge Report era. (For one thing, the film's view of the media is decidedly quaint: Tomei appears to be the last surviving political journalist in the United States, while the internet is something people use to arrange booty calls.)
There's crackling tension, too, between Philip Seymour Hoffman as Clooney's campaign manager and Paul Giamatti as that of the fustier rival candidate, a brief glimpse of whom suggests a Democratic John McCain — with no Republicans to kick around, the narrative must find its ostensible enemies where it may. (It's remarkable how much more attractive Clooney's campaign team is than the other guy's.) Hoffman and Giamatti are both on good, smart form, and an early cross-cut between the two, sweatily gritting their teeth in the wings as their candidates engage in debate onstage, previews an almightily entertaining schlub-off between them that the film never delivers. There's an intelligence to the way the film lets such characters fade into the Cincinnati spring mist — so much in politics, one senses, ends with a whimper rather than a bang — but Clooney is still a little too light with the friction.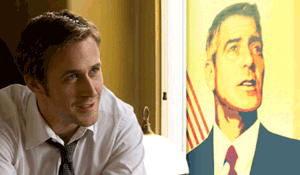 Instead, he concentrates his efforts on a showdown between Morris and Meyers, perhaps the two least jagged characters in the ensemble. Clooney's role is smaller than the head-to-head marketing approach has suggested — one could indeed make a case for keeping his character wholly off-screen, as in the play — but there's pleasure in watching the actor mine tiny crevices in his trademark glib facade; only Clooney could deliver the line, "This is a very sad day," at the funeral of a colleague's family member with a glazed half-smile on his face. Gosling is an appealing lead, but struggles to imbue Meyers with much of a personality beyond the ethics printed on his forehead: his blank-slate approach is fairly reasoned, but he can't quite make sense of a character so simultaneously cynical and righteous.
The duel between these two ghost-men is resolved in a pleasingly terse, roundabout fashion that lends the film's finale some genuine tang — though Clooney still can't resist overcooking some circular ironies to the point where they aren't ironic anymore, and Alexandre Desplat's jittery, flute-heavy score and Phedon Papamichael's over-underlit cinematography (Clooney's evidently a more original stylist with a Robert Elswit by his side) crank the dramatics a little more eagerly than the script does.
It's an intriguing enough close that we're left wishing we could be let a little closer to these guys: their domestic lives are clearly as cracked as their politics, even if the film is only concerned with the latter. "You've got such great hair," Morris's wife (a blink-and-you'll-miss-her Jennifer Ehle) whispers to him in the back of a campaign bus; it's the only line in this entertaining but self-limiting morality play that anybody really seems to mean.
[Photos: Columbia Pictures]