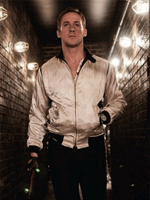 It's no secret both Guy and I are full on in the tank for Nicolas Winding Refn's "Drive." It's one of the year's best films, full of the promise of a fresh young filmmaker just beginning to sample his abilities for us all.
One of the big takeaways for me when I saw the film at Comic-Con, I noted, was a reverence for the city of Los Angeles. "I don't think another director has so completely captured the aura of the city like [Michael] Mann," I wrote at the time, "but Refn comes really close." And when I spoke to Refn later that evening, he mentioned to me that he feels Los Angeles is one of the most beautiful cities in the world, more so, even, than a picturesque burg like New York.
With that in mind, my esteemed colleague Jen Yamato has come up with one of those ideas at Movieline that I wish I had stumbled on: an interactive tour of Los Angeles with Refn's thoughts on the locations he used throughout the shoot.
For instance, regarding Nino's Pizzeria, the pizza shop owned by a mobster played by Ron Perlman in the film, Refn had this to say:
That was shot in the valley, and it was difficult to find because I wanted a real 'New York' kind of pizza shop, where you walk in from the street to get a slice. But also a place that basically looks like a front for something else. Most of the places in L.A. were more like restaurant-oriented, where being a New Yorker you're used to just walking in and getting a slice. I wanted that feel more, because Nino (Ron Perlman) is, you know, a Jewish man who wants to be an Italian gangster. That's why Bernie Rose (Albert Brooks) calls him Izzie; that's his real name. It was 100 percent [practical]. I like to find practical locations because it helps the actors a lot, to recreate everything.
There's plenty more at Movieline, with addresses and everything. So if you so desire, you can take off on a "Drive" tour of the city. Just stay away from elevators.
[Photo: FilmDistrict]