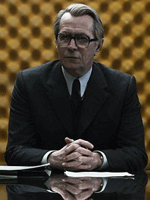 "Why Venice and not Toronto?" a colleague asked when I mentioned I was heading to the Lido for the world's oldest film festival for the third straight year. Given the North American bent of this site, it was a fair question, but also one I found easy to answer — and not just for the dully practical reason of relative airfare expense.
Toronto may have become the bigger and, depending on your field of interest, more influential festival (certainly so if you're in the Oscar-watching business). But with its abundance of pre-premiered films and no juried competition, it'll never have the grandeur or ever-so-slightly scuffed glamor of the Venice event, with its beachside location, soaring marble delegate halls and saturated aroma of overpriced espresso — not to mention the artsier exclusivity of its film programming, a once hit-and-miss virtue that scored a bulls-eye with a 2010 lineup that beat last year's Cannes for range, relevance and vitality.
Once the chief domain of Croisette-rejected castoffs and second-string art house curios, Venice is more frequently the first choice of top-tier auteurs and Oscar hopefuls: "Black Swan," "Brokeback Mountain," "The Wrestler," "The Hurt Locker," "Atonement" and "A Single Man" are just a handful of the big-ticket pictures that have made their first appearance on the Lido's sun-kissed shores.
And yet, for all this positive growth, the shadow of the slightly overlapping Toronto fest looms large over the Italian event: nowhere is this more apparent than in the scheduling of the Venice programme, which is so front-loaded as to induce a faint sense of panic. Mindful that a number of journalists will be leaving for the more mainstream temptations of Canada, Venice organizers have lined up the bulk of the big-name attractions in the first half of the 11-day festival.
George Clooney's baity political drama "The Ides of March" kicks things off on Wednesday, with Roman Polanski's "Carnage" and, more improbably, Madonna's "W.E." both bowing the next day. Friday brings David Cronenberg's "A Dangerous Method" and one of my own most curiously awaited titles, "Dogtooth" director Yorgos Lanthimos's secrecy-shrouded new feature "Alps"; Saturday the all-star (and out-of-competition) attractions of Steven Soderbergh's "Contagion," while Steve McQueen's "Shame" and Todd Solondz's "Dark Horse" will also be let out of the bag before this week is out.
A more devious festival might have held one of their prize titles not going on to Toronto ("Carnage," say, or Tomas Alfredson's "Tinker, Tailor, Soldier, Spy") until the festival's last days to discourage journos from getting itchy feet, but they know what they're up against. As it stands, closing film "Damsels in Distress" — despite the significant intrigue factor of being American maverick Whit Stillman's first film in 13 years, and starring rising indie princess Greta Gerwig — is unlikely to prove sufficient to lure them, though it's a tasty reward for the rest of us. (All digits crossed that it breaks with the ignoble tradition of festivals generally saving the worst for last: at the very least, the bar set by last year's Venice closer, Julie Taymor's "The Tempest," shouldn't be too hard to clear.)
There's enough anticipation in these parts for the latest from Cronenberg, Polanski, Alfredson, Soderbergh and Clooney that I needn't remind you once more what they are, but joining "Alps" at the top of my dying-to-see list are two films from new-ish British talents who had their first success at Cannes.
Andrea Arnold made my #2 film of 2009 in "Fish Tank"; now, she brings her sensual urban sensibility to the realm of the heritage film with a new (and reportedly highly sexed) take on Emily Brontë's "Wuthering Heights." Adapting Brontë has already worked a charm for one unlikely indie director this year (yes, I recently caught up with Cary Fukunaga's splendid "Jane Eyre") — here's hoping Arnold and her young cast can make it two. Meanwhile, McQueen's aforementioned sex-addict study "Shame" reunites him with Michael Fassbender, the star of his debut feature "Hunger"; between this and "A Dangerous Method," Fassbender has two shots at the Best Actor prize, and could well be the man of the hour.
Other major international auteur names brightening the Competition lineup include Aleksander Sokurov ("Faust"), "Persepolis" Oscar nominees Marjane Satrapi and Vincent Paronnaud ("Chicken With Plums"), William Friedkin (the Matthew McConaughey-tarring Tracy Letts adaptation "Killer Joe," ) and Abel Ferrara ("4:44 Last Day on Earth"). Todd Solondz will be hoping to repeat the Venice popularity of 2009's "Life During Wartime" with "Dark Horse," its typically eclectic cast including the long-dormant Mia Farrow. A less experienced American entrant is Ami Canaan Mann, daughter of Michael, whose factually inspired feature "Texas Killing Fields" stars Sam Worthington and a certain Jessica Chastain. Whatever happened to her?
Of course, as with previous years, competition standouts could well emerge from names not mentioned here, though based on previous experience, I feel safe making at least two predictions: that at least half the Italian film quota will be dismal, and that the annual "surprise film" will be among the most grueling surprises of your life. Last year's selection, Wang Bing's "The Ditch," a harrowing tale of life in one of Mao's labor camps, prompted this observation from friend and fellow critic Shane Danielsen: "The Venice selectors' idea of a surprise is news of your mother's sudden death."
Away from the competition, the lineup offers numerous pockets of interest beyond the red-carpet draws of the Madonna and Soderbergh features: the documentary lineup is particularly strong, with new offerings from American masters Jonathan Demme ("I'm Carolyn Parker"), Ross McElwee ("Photographic Memory") and Frederick Wiseman ("Crazy Horse"), as well as two new works (one short, one feature) from Pietro Marcello, whose "The Mouth of the Wolf" was my single favorite doc of 2010.
Add to this new films, split across the Venice Days, Orrizzonti and Out of Competition sidebars, from an array of interesting names including Chantal Akerman ("Almayer's Folly"), Mary Harron ("The Moth Diaries"), Al Pacino ("Wilde Salome," the cast of which includes — you'll never guess — Jessica Chastain) and even James Franco (here furthering his friendship with American gay culture with a biopic of 1950s teen idol Sal Mineo) and there should be more than enough to explore even once the festival has blown its pre-Toronto load.
MY 10 MOST ANTICIPATED FILMS OF THE FESTIVAL
"Almayer's Folly," Chantal Akerman
"Alps," Yorgos Lanthimos
"Crazy Horse," Frederick Wiseman
"Damsels in Distress," Whit Stillman
"A Dangerous Method," David Cronenberg
"Faust," Aleksander Sokurov
"Pelesjan," Pietro Marcello
"Shame," Steve McQueen
"Tinker, Tailor, Soldier, Spy," Tomas Alfredson
"Wuthering Heights," Andrea Arnold
Our coverage kicks off tomorrow with my review of "The Ides of March." (For the impatient, keep an eye on my Twitter feed for shorter, if speedier, reactions to festival films.) Stay tuned as I try to stay sane.
[Photo: Focus Features]