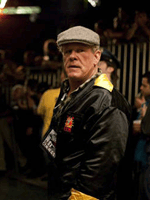 Many of you may be interested, so, the press release, in part:
Santa Monica, CA, August 30, 2011- LIONSGATE® (NYSE: LGF), a leading global entertainment company, today announced a special sneak preview screening program for inspirational sports drama WARRIOR. The screenings will be held on Sunday, September 4th at 7:00 pm, at theaters nationwide. The announcement was made by Lionsgate's co-COO and Motion Picture Group President Joe Drake.

To promote the sneak previews, Lionsgate has partnered with Twitter to designate the hashtag #WARRIORMovieSneakPreview, which Lionsgate has also sponsored as a Promoted Trend, allowing Twitter's powerful user base a direct link to buy tickets and continue to spread the tremendous word of mouth the film is receiving.
[Photo: Lionsgate]