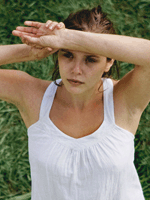 After the film caused a major splash at Sundance in January and continued the discussion at Cannes in May, it's safe to say I've been champing at the bit to see what Sean Durkin's "Martha Marcy May Marlene" had in store. I expected an above average indie experience with highlights of talent to likely be scattered across projects in the future, sure. But I didn't expect such a complete, layered, visionary construction.
I share Guy's feelings out of Cannes pretty much word for word. It's an elegantly structured film that not only finds a unique way of telling backstory but bleeds it into the present in such a way as to put the viewer right in the paranoid perspective of the troubled Martha (Elizabeth Olsen). And it's not just writerly chops on display from the first-time feature filmmaker. Durkin weaves this menagerie of slow-boiling intrigue while getting quality work out of his actors.
Olsen is every bit the revelation she's been considered these last eight months. Her performance is an unsettling slice of lived-in, burrowed-under skill. She betrays flashes of a former self with her eyes, is meticulous in mannered moments and emits paranoia so precisely it leaves you wondering what's real yourself. She's some intriguing mixture of Vera Farmiga and Maggie Gyllenhaal on the outside, but something so fresh and unique on the inside. It's stunning work, really.
John Hawkes offers more of the sinister stoicism that turned so many heads last year in "Winter's Bone," but there's a tenderness under it all that frankly makes the performance all the more anxiety-inducing. Sarah Paulson is top notch as a caring sister with her limits and Brady Corbet is almost more unnerving than Hawkes when he gets his moments.
I'll leave it at that because, as I said, I'm pretty much with Guy on this one. I want to say, though, that much like "The Tree of Life," this was a brave, somewhat outside-the-box pick-up by Fox Searchlight Pictures. It's great to see the studio taking on real labors of love that aren't really in the same wheelhouse they've constructed over the last decade or so.
With that in mind, the campaign for the film is already underway as we inch closer to release. I think Olsen has a great shot at awards glory this year, if she can fight off fellow newcomer Felicity Jones ("Like Crazy") along the way. But I will have my fingers crossed for Durkin's tight work on the page. His direction would face a bit of an uphill battle, even if it is deserving. And equally impressive feats below the line, not least of them being Zachary Stuart-Pontier's editing and Jody Lee Lipes' cinematography, deserve real attention, too. It's the best debut I've seen this year, so maybe a few of those prizes can be in store as we push through the circuit.
"Martha Marcy May Marlene" opens in limited release October 21 and is set to play Toronto fest next month.