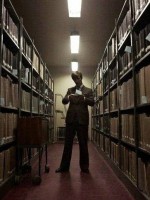 American viewers already frustrated about waiting two months longer than the Brits to lay eyes on Tomas Alfredson's "Tinker, Tailor, Soldier, Spy" — welcome to our world, guys — won't be pleased by Pete Hammond's revelation in a recent column that the wait has been extended by three weeks.
Yes, Focus Features has pushed the film back from its original November 18 release date to December 9, a move that some will interpret as indicative of bolshy awards-season hopes for the star-studded John Le Carré adaptation — though the pre-Thanksgiving berth wasn't exactly Oscar-unfriendly either.
That said, Focus might have picked a date with less intimidating high-end competition: originally set to precede "The Artist," "The Descendants" and "Hugo" by only a few days, the film now need only stare down limited releases of Madonna's "W.E." and Jason Reitman's "Young Adult."
Meanwhile, I'll be seeing the film bright and early next Monday at Venice, with its UK release coming shortly afterwards on September 16. With the film not set to appear at either Toronto or Telluride, the film's first appearance across the pond may not come until that December 9 release.
It's an interesting quarantine plan that suggests Focus are counting on a wave of positive critical buzz from the UK to fill the void — and judging from the reactions of colleagues who have seen it at recent London press screenings, that's what they'll get. (Annoyingly, I missed my chance at an early peek by taking a weekend trip to Ireland. More fool me.) "Meticulous" is a word I've heard applied both to the film and Gary Oldman's performance on more than one occasion, though its apparent subtlety could yet be its largest awards-season obstacle.
Speaking of which, Alberto Iglesias's score for the film promises a certain sombre, low-key classiness: you can listen to it at this designated page, and it's rather lovely indeed. Obviously I still need to see how it works in context, but between this and the contrasting achievement of his deliciously ripe dramatics for Pedro Almodovar's "The Skin I Live In," Iglesias is having a good year.
(An earlier draft of this article contained some outdated information about the release date and score of "Carnage." I apologize for the error.)
[Photo: Focus Features]