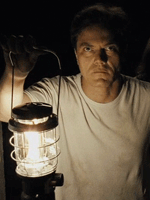 Not to overstate things, but it's time to talk about Michael Shannon and the fact that it'll be amazing if there is a better, more refined, more electrifying performance this year than his work in Jeff Nichols's "Take Shelter." This is his best work to date and it deserves a huge swell of awards support.
I got to know Shannon a few years ago when he was on the campaign trail for "Revolutionary Road" (which yielded him a surprise Oscar nod for Best Supporting Actor at the end of the year). When you know the softhearted guy behind the work, it's all the more impressive. And in "Take Shelter," he covers so much performance terrain with such controlled ease that it's just awe-inspiring. He is one of the best of his generation, hands down.
Oh, and that the performance comes in the midst of one of the year's standout films, surrounded by equally confident portrayals of all shades, well… How many good things can you say about something before it's just embarrassing? Let me try.
I never saw Nichols' "Shotgun Stories," which also starred Shannon, but I'll be getting around to it as soon as I can. Because this guy has talent, and unique talent in the face of current Amerindie cinema that often can bleed together into an indistinguishable clutter. And I imagine actors must love him, because he gives them so much to work with, yet keeps things wonderfully archetypal, allowing for a lot of play and added nuance.
Shannon takes on the role of a man haunted by the specter of potentially inherited psychological disorder. I'll leave it at that. Don't investigate too much here. I know I didn't and I had ever since glowing notices at Sundance to do so. I just sat there and let the film absorb into me, totally captivated, constantly surprised.
I personally think Guy may have damned it with faint praise at Cannes by calling it "the best M. Night Shyamalan movie never made," because I don't feel that at all (beyond a cute sound byte, and fair enough, that). It has real focus and a passionate observational tone. And the ending could be read a couple of ways, too, which I find fascinating. But bottom line: the film burrows in and you begin to crave the unsettling feeling it manifests. That takes some doing.
(By the way, it would make a fascinating paranoia double-feature with Sean Durkin's "Martha Marcy May Marlene," but more on that later.)
Jessica Chastain also deserves mention because it's yet another wonderful performance from the actress, this one less mannered than her great work in "The Help," more organic, layered. It's a great piece of work from an actress having a coming-out this year. But the effort from the rest of the cast — from Shea Whigham's powder keg best friend to Ray McKinnon's emotional kaleidoscope walk-on brother — is just as memorable.
But at the end of the day, this is Shannon's canvas, and he paints it with the year's finest performance so far. I cannot wait to soak this film up again.
[Photo: Sony Pictures Classics]