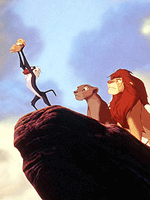 Disney held it's big premiere for "The Lion King 3D" today at The El Capitan Theatre in Hollywood, fit with live African bongo music, a green carpet (made of fake grass) and a "Hakuna Matata" dress code. Not a bad way to spend an early Saturday afternoon, and I've been looking forward to this for a little while now, I must say.
First thing's first: the 3D. It's actually quite wonderful. I was struck by how much the conversion had to work with, as there is a lot of depth built into the film as is. Whether it's the foreground/background of the ants and zebras in the prologue, the use of Red-billed Hornbill Zazu in flight or just the opportunity to lend striking separation in sequences like the pulp Nazi-inspired "Be Prepared" number, there was just a lot of opportunity to make the 3D effective. That's always helpful.
The movie, for me, is a perfect one, and my favorite animated film ever. I've always been taken by it's story, taking cues from Shakespeare and painting one of the studio's most indelible, thematically potent gems. I haven't seen it in a theater since the summer of 1994, and I was choking up five minutes in.
All cynicism (much of it warranted) about 3D aside, I'd encourage everyone to give this a look when it hits screens September 16. I may even give it another look. How can you argue with something this lean and pristine? The technology is not a speed bump here. It's well-executed and brings the film to life in a different way.
And it's a wonderful theatrical experience to re-visit, regardless. The crowd today erupted at all the right moments, but I have to say that burst of applause when the sun peaked over the Serengeti at the start of the film is one of my new favorite moments in a theater. Total goosebumps.
The film is also set for a Blu-ray two weeks following the theatrical release on October 4. I hope there is similar hoopla for "Aladdin" soon enough. Next year marks 20 years on for that one. Sounds like a good excuse to me.
[Photo: Walt Disney Pictures]