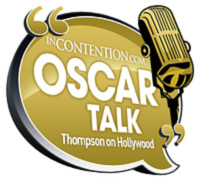 Welcome to Oscar Talk.
In case you're new to the site and/or the podcast, Oscar Talk is a weekly kudocast, your one-stop awards chat shop between yours truly and Anne Thompson of Thompson on Hollywood. The podcast is weekly, every Friday throughout the season, charting the ups and downs of contenders along the way. Plenty of things change en route to Oscar's stage and we're here to address it all as it unfolds.
After months of sporadic special edition updates, we're back to the weekly grind today. So check back here every Friday from here on out for our musings on the Oscar season, which is right around the corner with the start of the fall festival circuit. We go on for quite a while today. Let's jump in and see what's on the docket…
• Starting off today we take stock of the summer movie season, which is pretty much wrapped up now. What films come out of that frame with a legitimate angle on the Oscar conversation?
• Starting next week, the Venice Film Festival kicks off the fall festival season, with Telluride not far behind and Toronto kicking in a few days later. We spend plenty of time chewing on and mulling over the various players that will pop up in the next few weeks.
• Releasing shortly are two films we thought deserved some discussing in the Oscar context. One of them (Jonathan Levine's "50/50") we agree on. The other (Gavin O'Connor's "Warrior") we don't.
• Finally, we wrap things up with a handful of reader questions, ranging from the Academy's tapping Brett Ratner for the Oscarcast producing gig to Jessica Chastain's best Oscar chances in a busy year for the actress.
Have a listen to the new (LONG) podcast below, with the trailer for "Warrior" leading the way. If the file cuts off for you at any time, try the back-up download link at the bottom of this post. And as always, remember to subscribe to Oscar Talk via iTunes here.
[display_podcast]

Back-up download: Oscar Talk Episode 58