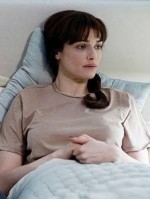 I'm trying not to think too much about my hometown film festival right now — with the chaos of Venice only a week away, the idea of diving into another five-films-a-day fortnight shortly afterwards seems somewhat deadly. Still, with this week essentially amounting to the calm before the storm, now is as good a time as any for the London Film Festival to announce that they'll be kicking off their 55th edition with Fernando Meirelles's starry erotic drama "360."
It's a choice that'll bring the requisite glamor to the fest's opening night — the cast includes Jude Law, Rachel Weisz (set to be the fall festival season's most ubiquitous face), Anthony Hopkins, Eminem and Ben Foster — but I must admit to being somewhat disappointed.
The LFF raised its international profile considerably in 2008 and 2009 by opening with major world premieres ("Frost/Nixon" and "Fantastic Mr. Fox," respectively), and while I'm aware of the difficulty of securing such coups, a curtain-raiser that has already been seen and critically assessed at Toronto — whatever its merits — just doesn't carry the same level of excitement.
Last year, "Never Let Me Go" opened proceedings in London: a respectable enough choice in itself, but one that had already opened to a commercial and critical shrug in the US. With "360" currently slated for a 2012 release, it won't feel like quite such old news, but it'll need strong Toronto reviews to avoid giving off a similar whiff of damaged goods.
The festival clearly has a good relationship with Meirelles — "The Constant Gardener" was a popular occupant of the opening-night slot back in 2005. Since then, the director's reputation hit a bit of a speed bump with the noble failure of 2008's "Blindness," so there's pressure on "360" to make up some ground. I confess I'm slightly nervous about the project — a reworking of "La Ronde" is a tall order for anyone, and neither Meirelles' earnest-if-kinetic drive, nor writer Peter Morgan's dryly disciplined oeuvre, necessarily promise the playful, passionate touch needed for such a project. (Still, it's encouraging to see Morgan continue to move away from his trademark fact-based work, in light of the drubbing dished out to last year's misguided fantastical foray "Hereafter.")
Festival director Sandra Hebron, in her final year steering the LFF, is confident, of course:
I'm delighted that 360 will be our opening night film, and very pleased to welcome back Fernando Meirelles and Peter Morgan to the Festival. With its impeccable film making credentials and intriguing premise, 360 combines masterful visual story telling with a modern and moving narrative, helped by strong performances from a terrific ensemble cast. It will be a pleasure to open this year's Festival with such an accomplished film from one of international cinema's finest film makers.
Well, we'll have some idea before then. The London Film Festival runs from the 12th to the 27th of October, with press screenings beginning about two weeks before. (The full lineup drops on September 7.) Expect our usual coverage, but not before Venice and a long nap.
[Photo: BBC Films]