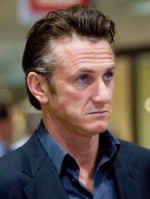 I originally posted this in the previous comment thread, but since the web seems to have latched onto this story, I think it's worth highlighting more prominently. The media is determined to interpret Sean Penn's fairly reasoned personal reservations about "The Tree of Life" as some kind of ego-driven attack — but before everyone starts taking sides in the Penn-Malick Celebrity Deathmatch, it's worth reading the second half of his statement to Le Figaro, which doesn't seem to have been translated by the English-speaking press. My rough translation below paints a rather more gracious picture:
But it's a film I recommend, as long as you go in without any preconceived ideas. It's up to each person to find their own personal, emotional or spiritual connection to it. Those that do generally emerge very moved.
So, what we have have here is a statement of respectful artistic dissent from someone clearly still proud to have been involved with the picture. Not as much fun as a highbrow bitchfight, granted, but there it is. At ease, everyone.
[Photo: Fox Searchlight Pictures]