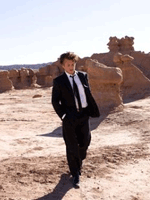 It seems actor Sean Penn is still upset about the fact that so much of his performance in "The Tree of Life" was left on the cutting room floor. I guess he and Adrian Brody can drown their woes in a few down at the pub. Said the actor to French magazine Le Figaro:
I didn't at all find on the screen the emotion of the script, which is the most magnificent one that I've ever read. A clearer and more conventional narrative would have helped the film without, in my opinion, lessening its beauty and its impact. Frankly, I'm still trying to figure out what I'm doing there and what I was supposed to add in that context! What's more, Terry himself never managed to explain it to me clearly.
The thing is, I don't entirely disagree with him. The bookend nature of his role is the weaker element of the film, particularly the reprise at the end. But I do think the early stuff works because it's a brilliant, human lead-in to the film's central question: "Why hast thou forsaken me?" Penn asking the almighty "Where were you" when his character's brother died leads to the film's extended cosmos sequence, and that is key, something I dug into when I wrote about the film at length in May.
I don't doubt Penn's sincerity but I also can't help but sense some irritation over the fact that his role was significantly diminished, a complaint we've certainly heard before. But as a two-timer with Malick now, surely Penn understands as much as anyone that when you sign up to work with the maestro, you're taking the risk that your work will be slashed and positioned to the director's will.
I haven't read the original script so I can't speak to what was on the page, but we all know Malick is a master of imagery and whatever is on the page is merely a vague road map for his vision. As Richard Brody quotes Fritz Lang in "Contempt" at The New Yorker: "In the script it is written, and on the screen it's pictures."
[Photo: Fox Searchlight Pictures]