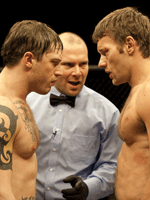 I have to say, even though the pieces were there and I tend to respond overwhelmingly to father/son dramas, I was really surprised at how little I felt emotionally while watching Gavin O'Connor's "Warrior." And O'Connor really excels at this stuff, in general, for me. But it didn't come together this time.
I feel pretty much alone here because the film has been affecting a number of critics and press members for the past month or so now and the room I was in tonight was all energy and tears, right there with it. But I don't know, there is something in the fabric of the writing that kept me at arm's length.
So Nick Nolte's Paddy Conlon character was an asshole father to sons Tommy (Tom Hardy) and Brendan (Joel Edgerton). I know this because I'm being told over and over and over again. I know it, but I don't feel it. Being presented with a thousand-day sober man looking to make amends really shoots that in the foot and you start wondering why his kids can't just stop being pricks. Something, anything, that would have keyed us into their perspective would have gone a long way.
Then there is the molasses roll of the thing. There isn't a real sense of pace at all, and the choice to structure things bottom heavy with an hour-long MMA tournament sequence just drags the movement down — especially considering so many of the actual fights are scripted without much drama.
Which brings me to the Tommy character. Don't get me wrong. Hardy gives a wonderful, beautiful performance. He's kind of forced to because he has to carry so much inference on his shoulders throughout a script that prefers to drop nuggets in a build toward what's really driving him, and because he's built up to be a beast of a fighter so much that he probably read as two-dimensional on the page. But it felt a bit cheap to make him into a ferocious one-punch dropper every step of the way, and whatever is eating at him is so internalized it becomes a vehicle for Hardy's talent more than an element that actually helps the story move forward.
(Also, just as someone aware of who he is, the stunt casting of Kurt Angle was somewhat distracting. But I don't imagine this will be a problem for most of the film's audience.)
All that said, people are really responding to this film. I expect, at the very least, a Best Supporting Actor nomination for Nolte. Hardy could make some waves in the race, but I don't see him making it into the field unless the film itself takes off across the board, which it could, but I'm skeptical.
I really wanted to be on board here. But it just didn't click. Not even a moment of eye moisture. Can't win 'em all, I guess.
[Photo: Lionsgate]