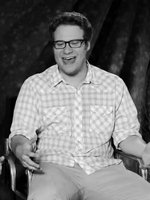 Yesterday I sang the praises of Jonathan Levine's "50/50," particularly the writing from real-life cancer survivor Will Reiser and actors Joseph Gordon-Levitt and Seth Rogen. Today, Summit has pointed us to a sit-down chat between the three regarding the film as part of Gordon-Levitt's hitRECord call for submissions of personal stories of tragedy blended with comedy. He writes:
Contribute your tragic/comic story here.  Tell us about something terribly unfortunate in your life, but do it with a sense of humor.  You could write your story in text, you could RECord yourself telling the story into your camera or microphone, draw a picture, write a song, whatever's comfortable.
And can I say this? I really didn't know Rogen was essentially playing himself in the film and that the story is both his and Reiser's. Had no idea at all. The things that fly under one's radar. Anyway, check out the chat after the jump. And feel free to offer up your tragicomedy selections at hitRECord.
[Photo: hitRECord]