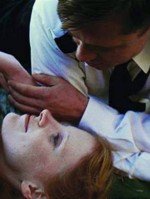 Well, did anyone expect otherwise? FIPRESCI, the international association of film critics that routinely hands out its own award at film festivals, has named Terrence Malick's "The Tree of Life" the winner of its annual Grand Prix award — for the film voted the year's finest in a poll of their 200-plus membership.
(Before anyone protests that it's a little early to be dishing out Film of the Year honors, the eligibility bracket is an autumn-to-autumn deal, scheduled to fit with a presentation at the San Sebastian Film Festival. A 2010 critics' favorite like "The Social Network," for example, would have been up for consideration this year.)
A slight irony is that Malick's film didn't actually win FIPRESCI's own award at May's Cannes Film Festival — it was pipped to the post by Aki Kaurismäki's still-unreleased "Le Havre." The discrepancy, of course, can be explained by the difference between jury and mass voting patterns: the Cannes prize is determined by a select handful of members, while a collective membership vote is more likely to favor big-league critics' darlings.
Indeed, the list of previous FIPRESCI Grand Prix winners, however classy, leans heavily toward expected arthouse hits; "The Tree of Life" is the third Palme d'Or winner in five years to take the award. (Last year's winner, "The Ghost Writer," was perhaps a slighter choice than usual for them, but still came from an entrenched canon filmmaker.) Here's the rundown:
1999 "All About My Mother," Pedro Almodóvar
2000 "Magnolia," Paul Thomas Anderson
2001 "The Circle," Jafar Panahi
2002 "The Man Without a Past," Aki Kaurismäki
2003 "Uzak," Nuri Bilge Ceylan
2004 "Notre Musique," Jean-Luc Godard
2005 "3-Iron," Kim Ki-duk
2006 "Volver," Pedro Almodóvar
2007 "4 Months, 3 Weeks and 2 Days," Cristian Mungiu
2008 "There Will Be Blood," Paul Thomas Anderson
2009 "The White Ribbon," Michael Haneke
2010 "The Ghost Writer," Roman Polanski
2011 "The Tree of Life," Terrence Malick
In this case, I'd say the predictable choice is the right one. "The Tree of Life" is far from my own favorite film of the past 12 months, but nothing has it beat in terms of sparking and enriching the critical conversation; it has a sense of occasion and consequentiality with which no film we've seen thus far in 2011 can quite compete. I expect some US critics' groups will feel the same way come December; if the film is eventually to make a dent in the Oscar race, this is the path it will take. It's not every year that the full force of international critical consensus lands on an American film, after all — Fox Searchlight would be wise to take advantage.
[Photo: Fox Searchlight Pictures]