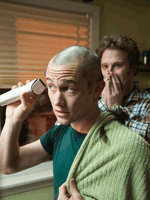 It's probably a bit ridiculous that I haven't seen Jonathan Levine's "The Wackness" yet. I have the screener somewhere around here and it's just one of those films I keep forgetting to watch, despite constant encouragement to do so. Therefore, "50/50," a dramedy from writer Will Reiser based on his own experience being diagnosed with cancer, is the extent of my knowledge of the director's work. And it's fantastic.
Coming off "The Help," I'm getting a little tired of crying like a baby in movies, but "50/50" earns those tears in more complex and special ways. It also finds the right pulse of comedy to balance the experience out and boasts a tight little ensemble with a natural vibe.
Joseph Gordon-Levitt is front and center as Adam, a 27-year-old Seattleite smacked in the face with a cancer diagnosis. He has a girlfriend, Rachael (Bryce Dallas Howard), who isn't totally up to the task of dealing with all this. He has a life-long friend, Kyle (Seth Rogen), who keeps pushing the illness as a chick-magnet (and follows an arc that is ultimately touching and surprising, yet believable and organic). And he has a mother (Anjelica Huston) who worries herself sick, naturally, and longs for connection that she can't get from her own Alzheimer's-afflicted husband.
But this is Gordon-Levitt's show. He gives is best portrayal to date here, mining rich emotional beats when they count and capably driving forward a character that could have come off a bit cliched. I was particularly moved by his display when heading off to a scary procedure late in the film and couldn't keep the tear ducts dry there to save my life. He really finds something special in the emotionally charged areas of this performance.
Anjelica Huston doesn't have a whole lot to work with as far as screen time goes, but she makes the most of it and reminds (if you needed reminding) that she can wrap a role around her finger.
Also worth mentioning is Anna Kendrick, whose nervous energy was perhaps a bit too amped up here, but whose therapist character Katie nevertheless settles into a lovely relationship with Adam that pays off and feels real. You can't ask for much more, and Kendrick is clearly astute at these kinds of portrayals.
I would have said that the comedy from Seth Rogen could have been dialed back a bit, but in the end — if you're paying close attention to highlights jotted on a bit of toilet reading — every bit of it becomes clearly indicative of why Kyle is such an important cog in this wheel.
Oh, and I'd also add that I'm particularly impressed with Bryce Dallas Howard's role choices as of late, springing for unlikeable characters and getting under their skin without turning them into two-dimensional villains. That's the mark of a professional and she has talent in spades as it is, so hers will be a career I continue to watch with glee, I have no doubt.
I hope "50/50" can find traction in the awards race. This and "A Better Life" are noble pursuits for Summit Entertainment, and I think a screenplay nomination is worth chasing. As great as Gordon-Levitt is, I fear he might get crushed in the sincere awards season glut of lead portrayals hunting a nomination, but maybe the HFPA can find room for him. Everyone involved really deserves a hard look here, but I'm just glad a film like this came off without a hitch and made me feel something real.
Now, where's that screener of "The Wackness?"
[Photo: Summit Entertainment]