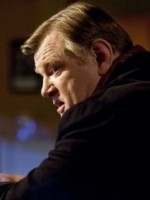 For a series of not-entirely-connected reasons, a little Irish indie called "The Guard" has been on my mind today. For starters, a reader named Stephen asked me on Twitter when it would reach US theaters — only for me to discover that it's been in limited release there for several weeks already. (UK audiences can see it on Friday.) Then, coincidentally enough, my brief review of the film for Heat magazine hit shelves today; it was already on my mind, however, thanks to a tweet this morning by Telegraph critic Tim Robey:
A proper Brendan Gleeson awards push needs to happen for The Guard. He's so often the bridesmaid, disturbing image though that may be.
I'm not one to ignore a hat-trick of signs, however tenuous, pointing to a particular film — particularly one I saw over six months ago and could otherwise have stored on the dusty top shelves of my memory. Someone, somewhere, on high clearly wants me to blog about "The Guard" today; more to the point, I do, because I couldn't agree more with Tim's order.
This rough-edged, black-hearted and very funny crime comedy, the debut feature of John Michael McDonagh (brother of "In Bruges" writer-director Martin), has many incidental pleasures to offer — see my Berlin review — but it's Gleeson's soulful, rangy lead performance as a corrupt small-town police chief that really sticks.
Where many other actors would respond to McDonagh's quickfire writing with jocular schtick, Gleeson delivers a fully rounded portrait of the loneliness and lack of stimulation that fuels his character's bad behavior, without skimping on the droll comic timing. His familiar hangdog weariness is given a jolt of venality here that the actor clearly relishes, and his chemistry with the more tightly wound Don Cheadle (as a fish-out-of-water FBI agent) keeps the performance lit.
It's comparable to, but more expansive than, his beautifully broken BAFTA- and Golden Globe-nominated work in "In Bruges," and more deserving of Best Actor consideration than just about any performance released to theaters so far this year. That, of course, is a distant hope, given the low profile of the film (though it does come from the Sony Pictures Classics stable), the acquired-taste comic register of the material and Gleeson's modest character-actor status. (The Globe comedy category, though, is hereby instructed to come through for the actor again.)
In an ideal world, though, he's exactly the kind of limber, resourceful, hard-working thesp awards bodies would single out more often — as regular and valuable an asset to commercial blockbusters (including the Harry Potter series) as he is to scrappy independent filmmakers — and "The Guard" the kind of roomy vehicle that would get him there. It's certainly his most generous showcase since his furious breakout turn in 1997's rather symmetrically titled "The General," perhaps even a career peak. Whether or not any awards bodies care to take notice, seeing Gleeson get first billing for a change is something of a win in itself.
[Photo: Sony Pictures Classics]