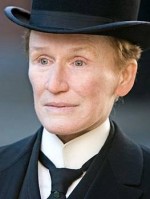 In the grand scheme of the awards season, an honour from the high-end but small-scale San Sebastian Film Festival doesn't mean much on its own. But seen potentially as the first stop on a tour of similar recognition, the festival's announcement of a Lifetime Achievement Award for Glenn Close — conveniently attached to the European premiere of her film "Albert Nobbs" — suggests the shape Close's 2011 Oscar campaign could take. From the press release:
Glenn Close, one of Hollywood's most feted actresses, will be the film personality to receive this year's Donostia lifetime achievement award at a ceremony on September 18th at 21:30 in the Kursaal Auditorium.

In San Sebastian, the actress will introduce the European premiere (out-of-competition) of her latest film, Albert Nobbs. Helmed by Rodrigo García, the movie is set in 19th Century Ireland, a society dominated by men where women have no opportunities and are condemned to a life of servitude. The star of the film (Close) is a woman who disguises herself as a man to get a job in a hotel and earn the money she needs to fulfill her dream.
Close, of course, is one of the best examples of the Academy's curiously fickle loyalties. Nominated so frequently in the 1980s (she racked up five nods in just seven years), most contemporary awards-watchers would have assumed her eventual Oscar win was merely a matter of time — only for the attention, and eventually the opportunities, to dry up completely as soon as the decade turned.
With "Albert Nobbs" marking her first lead film role in a decade (and her first big-screen role of any shape in four years, TV having claimed her of late), there's a last-chance feeling in the air. She may be very good in "Albert Nobbs" — though for reasons I can't pinpoint, I don't quite trust the film — but if the performance proves sufficient to build a campaign on, few will vote for her without a handful of previous roles in mind.
It's easy to overestimate the Academy's sentimental attachment to veteran actors — just ask Peter O'Toole or Lauren Bacall, both scuppered by vehicles voters just didn't fancy driving — so those already positing Close (alongside fellow sixtysomething Meryl Streep) as an automatic frontrunner are possibly getting over-excited. Still, that Close developed and co-wrote the film counts as a point in her favor: the industry admires people who make their own opportunities when no longer handed them by others. The narrative is in place; to get it moving, the film now needs to pass the looming Toronto test. Either way, she has at least one trophy in this year's cabinet.
[Photo: Roadside Attractions/Liddell Entertainment]