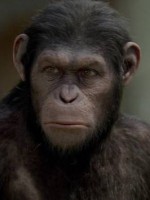 I suppose some might put it down to the fact that I didn't find the film as spirit-lifting as many critics did, but I have a hard time signing the blogosphere's imaginary petition for Andy Serkis to get a Best Supporting Actor nomination for "Rise of the Planet of the Apes."
It's not that I don't admire Serkis's expertise, or accept motion-capture performance as a valid and exciting discipline. Nor am I a physical purist in terms of what constitutes award-level acting. Not two years ago, I happily included James Gandolfini on my hypothetical Oscar ballot for "Where the Wild Things Are," and I have no beef with the 2001 BAFTA nomination handed to Eddie Murphy in "Shrek." An actor's face may be his foremost tool, but if he can affect audiences without it, then more power to him.
I will admit, however, to some uncertainty as to the border between Serkis's contribution and that of the FX team; whereas I can locate and identify the limitations of Gandolfini's work, much of the critical praise for Serkis's Caesar hinges on a undeniable expressiveness that has nonetheless been enhanced beyond the actor's own means.
Luckily, this winds up as a moot point for me, given that I don't find either the character or the interpretation of Caesar — however impressive — sufficiently rich or layered to merit consideration as one of the year's best performances, be it the product of unfathomable technical wizardry or a man in a monkey suit. (Compared to Serkis's Gollum from the "Lord of the Rings" films, for example, Caesar is a pretty thin creation; meanwhile, the critics marvelling at how the film's impressive rendition of Caesar dwarfs the film's human performances are promoting a false dichotomy when the humans in question are as flatly written as James Franco and Freida Pinto. The Golden Gate Bridge out-acted them too.)
An Oscar for motion-capture acting may be an interesting story to chase, but I have yet to see an individual performance that fires my interest in it beyond the theoretical. I rather wish Serkis's cheerleaders had been as vocal when he delivered a less groundbreaking but considerably more exciting in-the-flesh turn as Ian Dury in "Sex & Drugs & Rock & Roll," but that wouldn't have afforded them the opportunity to claim high ground in the Brave New World stakes. I can't help suspecting that many of those pre-emptively bashing the Academy for their conservatism in this matter like the idea of Serkis's "Apes" performance even more than they like the performance itself.
One word I wouldn't use to describe Serkis's work — and not only because I'm not a working actor — is "dangerous": until someone decides that motion capture technology is a necessary expense for non-fantastical, character-driven drama (hey, check out those digitally rendered scowls in "Winter's Bone!"), I don't see how the innovation narrows the scope of an average actor's career as much as it extends it:
One man who disagrees, however, is veteran critic and performance essayist David Thomson: in a recent essay for The Guardian, he admires the process behind Serkis's characterization, while also describing it rather vaguely as a "grave warning":
Serkis has said he finds no difference between performance-capture and acting. We should take this as a grave warning. Pioneers are often innocent opportunists, yet sometimes they sense a new nature in the world. So it's worth stressing that Serkis can be a brilliant and disturbing actor with no more technology on his side than film, a camera and a good part… We may not see such miniature work again, and no one will dispute the right of a once-harried actor to find comfort and splendour. But the pioneering that Serkis leads is more important, and every bit as dangerous, as far-fetched lab experiments with chimpanzees.
It's a sketchily thought piece — at no point does Thomson suggest what he thinks the consequences of this imagined danger could be, or how it might pertain to actors less practised in the process than Serkis — and I don't share his belief that an Oscar nomination for Serkis is anything close to likely. (Thomson has never been the most astute of awards pundits.) Indeed, his own piece rather points to why it isn't: Thomson may not be an AMPAS voter, but his concern couldn't be a more textbook illustration of the resistance many industry folk (particularly those of more advanced years) might feel to the idea of out-of-body performance.
[Photo: 20th Century Fox]