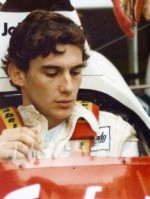 Longtime Oscar-watchers know that the Academy's documentary branch is a law unto itself: no amount of glowing reviews, previous awards, robust box office and/or pop-culture prominence is enough to secure a film a guaranteed nomination in the Best Documentary Feature race. Indeed, anticipating the "surprise" snub in the branch's series of shortlists is something of an annual pundits' parlor game: last year, Davis Guggenheim's popular "Waiting for Superman" was the winning/losing horse, depending on your perspective.
Still, inasmuch as one can predict these things, Asif Kapadia's marvelous "Senna," which I reviewed earlier this week, ticks all the boxes of an Oscar frontrunner in the category.
A rousing, emotionally rich biopic with a strong dramatic arc that makes it accessible even to those with no interest in motor sport — the latter audience representing its biggest obstacle in the States — it arrives on US screens today boasting sensational reviews (for the number obsessives, its Metacritic score currently sits 84), record-breaking UK box office and a Sundance audience award. When it comes to BAFTA night, at least, the other four documentary nominees may as well not bother turning up. (It'll likely be a hot contender for the Best British Film prize too.)
I have, however, had some correspondence from readers concerned that one of the Academy's many arcane eligibility rules may foul things up for the film. The rule in question — that any film constructed wholly from archive material cannot compete for the award — has reportedly disqualified such outstanding contenders over the years as Werner Herzog's "Grizzly Man" (though, given how much interview footage Herzog recorded for the film, I'm not sure how that computes). It would appear to affect "Senna" too, given that the film is proudly pieced together entirely from archive footage.
It's an idiotic rule in any event — the idea that there's no rewardable cinematic craft in editing and shaping a narrative from previously existing footage is weirdly self-defeating, not least coming from a branch of fellow documentarists — and would be a particularly asinine one applied to "Senna," the very beauty of which stems from its present-tense unfolding without the aid of superfluous voiceover or talking heads.
Happily, the film appears to have a sufficient loophole to dodge the DQ. The film does feature a great deal of interview footage recorded specifically for the film — the only catch being that it's present only in audio form, attached to archive video. Still, it's new material, and Kapadia himself has apparently insisted that the film is eligible. That's not to say voters mightn't find another way to embarrass themselves by overlooking one of the year's best films, but we'll cross that bridge if we come to it.
In the meantime, do yourself a favor and see "Senna" this weekend. It'd be the week's clear must-see even if it weren't up against a "Glee" tie-in and one of the very worst films I saw in 2010.