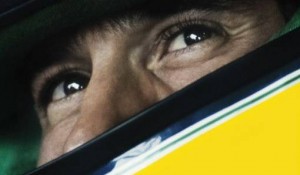 It seems perverse to begin a review of a documentary — one about a well-known, latter-day sports legend, at that — with something as mundanely cautious as a spoiler alert. Until recently, if general knowledge hadn't already acquainted a viewer with the outcome of a non-fiction feature, or if the laws of real, unheightened life hadn't made it patently obvious, the filmmakers would usually do the job for us anyway, working backwards from set facts to find the variables we don't know, or didn't know we knew.
With a new breed of documentarists getting ever more playfully shape-shifting in they ways they trade information and manipulate point of view — last year's talking-point docs "Catfish" and "Exit Through the Gift Shop" both hinged on an abrupt turn not only in perspective, but in subject — Asif Kapadia's dazzling biopic "Senna" instead subverts expectations by keeping its storytelling fiercely linear. Viewers unfamiliar with the story of Ayrton Senna, the reckless, beautiful Brazilian Formula 1 racing driver who rose to prominence in the 1980s and ended his career as arguably the greatest in the sport's history, are offered no pat framing devices and wistful talking heads to say what became of him, beyond the unhappy use of the past tense.
There are, presumably, more such viewers in the US than in the UK, where "Senna" has recently become the highest-grossing documentary of all time; the beauty of Kapadia's keenly paced and meticulously edited film is that it's equally affecting as present-tense post-mortem for fans and quasi-mythic history for the uninformed. Appraised through either lens, its narrative is a markedly cinematic, even classical, one: Kapadia and writer Manish Pandey (a film novice drafted in on the strength of his unmatched Senna fandom) have waded through reams of footage and individual recollections to carve out a crisp, resonant three-act structure of ambition, triumph and rivalry that echoes the beats of so many  fabricated sports dramas until real life gets stunningly in the way.
A director of dramatic features previously best known for his striking BAFTA-winner "The Warrior," Kapadia is a canny enough story-spinner to treat his material here as an extraordinary fiction, milking the primal love-hate chemistry between chippy young Senna and Alain Prost, his older, dourer initial teammate and eventual nemesis, for maximum melodramatic value, with venal, Blofeld-like F1 chief Jean-Marie Balestre lurking splendidly on the sidelines as a too-good-to-be-true-and-yet villain figure. Indeed, he, and we, invest in the eventual climax of this cockfight with such urgency that Senna's demise is a disorienting intrusion even to the many viewers who know it's coming.
The film sets the foundations for Senna's upsettingly abrupt death — a fatal crash while leading the 1994 San Marino Grand Prix, the events depicted here with previously unseen, positively gasp-inducing first-person footage — with honest symptoms rather than pompous foreshadowing. There's little need for post-fact editorializing about Senna's death wish when the man himself so baldly embraced his mortality in interviews; there's little need to sound drums ahead of the fateful day when the film has already matter-of-factly shown how close Senna came to a similar fate in previous races. The payoff of Pandey's elegant, persistently forward-driving screenplay (and yes, it is one) is that we acquire the same mounting acquaintance with, and concern for, the subject that Senna's own followers did in his day, however condensed.
The filmmakers know, too, that it's not sufficient to tell us what an extraordinary figure he was, however persuasive on a second-hand level the visual evidence presented of his deification in Brazil. Our admiration is likewise earned via stretches of thrilling, heart-in-mouth race footage, as well as curiously poignant incidental asides — a seemingly fluffy stretch of footage showing Senna awkwardly flirting with an improbably buxom children's TV host is merely amusing until we begin to wonder just how adequate the man felt in any seat but that of his own vehicle. By turn rousing, inquisitive and heart-crushing, Kapadia's remarkable moving portrait is documentary cinema of the most economical order: not a shred of film has been wasted on, or added to, a life that, nearly two decades on, remains ever unfinished.
("Senna" opens in limited US release on Friday. Look out for my interview with director Asif Kapadia later this week.)