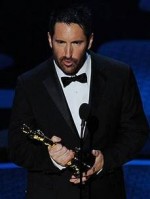 I generally try to ignore film opinion pieces I think are fundamentally misguided — à chacun son goût and all that, plus the fact that fighting one mind is generally more trouble than it's worth — but Ben Walsh's idle article in The Independent today on the supposed demise of the movie soundtrack does such an absurd disservice to the current landscape of film music that it can't pass without objection.
Walsh's standpoint is a dully nostalgic one: movie scores were so much more memorable in the old days, when greats like John Williams, Ennio Morricone and Danny Elfman (who are all dead, apparently) conjured whistle-ready themes by the dozen, while scores today "seem so completely unmemorable" by comparison.
His pool of case studies for this assertion is a shallow one — he speaks mainly of the recent Oscar winners by Best Picture, Original Score and Original Song, oddly conflating the last two categories as if the two disciplines are somehow comparable — and even through that narrow prism, his preferences are hard to justify.
For example, Trent Reznor and Atticus Ross' inventive, insistent electronic score for "The Social Network," which deftly encapsulated both an individual mood and the surrounding era, is summarily dismissed as "pretty unexceptional"; by contrast, Randy Newman's inoffensive but color-by-numbers theme song for "Toy Story 3" is deemed "outstanding." Focusing largely on Oscar nominees conveniently means he can leave such exciting names as Clint Mansell, Jonny Greenwood, Nick Cave and Carter Burwell out of the conversation, though he grudgingly concedes that Daft Punk's thrilling, genre-leaping electro-orchestral score for last year's "TRON: Legacy" is "decent."
Strangely, the ubiquitous Alexandre Desplat, widely viewed as the standard-bearer for the new generation of film composers, doesn't rate a mention. He may have some rote scores on CV counterbalancing his unsettling flashes of "Birth"-level genius, but so does any prolific major composer — John Williams may be a master, but to pretend he hasn't churned out some functional filler in his day is obtuse. (What do you mean, you don't recall the score for "Heartbeeps?")
Walsh's conservative ideal of film scoring seems to hinge on notions of catchiness and melodic immediacy — he goes so far as to phonetically spell out John Williams' themes for "Jaws" and "Raiders of the Lost Ark" — while ignoring the fact that only certain commercial films benefit from this approach. What manner of score does he think would serve a film as sober and seething as "The Social Network" better than the one it has? Why, in his snap survey of recent Oscar winners, does he skip over Gustavo Santaolalla's spare but immediately identifiable guitar theme for "Brokeback Mountain" when it most closely matches his film-branding requirement? He seeks solace in the wistful romanticism of Michael Giacchino's beloved, classically built "Up" score, but to pretend that it's an anomaly in the era of "The Fountain," "A Single Man," "Bright Star" or "The Illusionist" suggests he's not seeing (or at least listening to) enough movies.
Walsh's sounding of the death-knell for the great movie soundtrack oddly comes at a time when I find myself buying and downloading more film music than ever before — I recently shelled out for an essential box set of Tindersticks' spine-tingling collected scores for Claire Denis, have had the Chemical Brothers' pulsating "Hanna" compositions on regular iPod rotation (fellow runners, this is your new best friend), and am eagerly awaiting my pre-ordered copy of Cliff Martinez's witty, sexy synth exploration for "Drive."
Among the soundtracks I've acquired recently is the one Walsh singles out as some kind of great white hope for the artform: Arctic Monkeys frontman Alex Turner's elegant collection of melancholic throwback shuffles for charming British indie "Submarine." It's a lovely listen, and a neat idea for this year's Best Original Song race, but only the latest in a healthy line of striking recent song scores, from "Where the Wild Things Are" to "Once," that suggest — together with the instrumental contributions of numerous names from the realm of popular music, many of them mentioned in this piece — that film music is a broadening field rather than a shrinking one.
Add to that the fact that many of the traditional composers mourned by Walsh are still active, with established but unmentioned names like Hans Zimmer and Philip Glass (wait'll you hear his work on the upcoming "Elena") still very much in their creative prime, and it's difficult to see what even the staunchest purists (Walsh isn't alone in his concern, as a trip to the message boards of sites like Filmtracks.com will tell you) have to complain about. Turn it up.
Read Walsh's decidedly opposed view here.
[Photo: Rolling Stone]