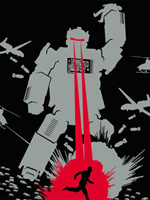 Trends are hardly new in Hollywood, but I can't help but react to the escalation of robot-themed projects in the works as of late, all of them, no doubt, looking to cash in on the multi-billion-dollar "Transformers" franchise.
First there is the Hugh Jackman-starrer "Real Steel" later this year. Then, whenever he decides to get around to it, Steven Spielberg will dive into the adaptation "Robopocalypse." An adaptation Daniel Wilson's book "How to Survive a Robot Uprising" is also in the cards (which would dovetail nicely with a take on the Max Brooks classic "The Zombie Survival Guide").
Yesterday a reboot of "Short Circuit" was announced, and today, /Film reports that "Monsters" director Gareth Edwards is working on an untitled project "about a young human child (probably around 5 years old) and a robot who travel across the galaxy in search of mankind's origin in a world void of humanity and filled with robots." The director is apparently pitching the project as "a robot Star Wars." Well, that'll certainly get the suits listening.
Travis Beacham's "Pacific Rim" really hits the mother load in this vein, given that his original screenplay features robots (technically mechs, he reminds) AND aliens, with an added boost from Guillermo Del Toro's vivid imagination sure to make it rise above the fray. Beacham is also working on a top secret project with J.J. Abrams called "Zanbato," which involves Japanese history and robotics and has been described as "swashbuckling robots with swords." Given his talent as a writer, I have more faith in those projects than most of the others mentioned here. But that's seven, and I may even be missing a few.
I don't want to be unfair to these projects, because any of them could be classic and brilliant and well worth the investment. Nevertheless, when I notice these kinds of things happening, I always get a little sad. Not because of a dearth of creativity (though that's certainly part of it), but because it seems like the industry is so eager to capitalize on something, it ends up invariably behind the curve. The film hits, the moment has passed, the money comes in short and it's back to the drawing board. "What's hot now?"
"Now" is kind of the key stumbling block. Spend all that energy on "next" instead, and maybe you'll hit the jackpot. Try to be ahead of the curve. And the only way to do that is fresh, innovative, non-derivative ideas.
It's a humble suggestion, but what the hell do I know? Now, off to dust off that "Gobots" spec…
[Photo: Bloomsbury USA]