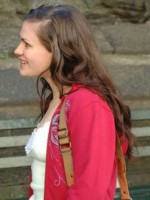 And you thought "The Tree of Life" had a protracted journey to its eventual release. It's well over two years since I first wrote about the woes of Kenneth Lonergan's chronically delayed sophomore feature, "Margaret," and even then, it was a stale issue. The film was shot in 2005 — long before co-producers Sydney Pollack and Anthony Minghella passed on, long before leading lady Anna Paquin's career was transformed by "True Blood" — and has languished in post-production purgatory (with occasional trips into legal hell) ever since.
Indeed, the wait for "Margaret" simply to travel from set to screen has now exceeded the already frustrating five-year gap between Lonergan's marvelous, Oscar-nominated debut, "You Can Count on Me," and the production of his follow-up. Some blamed Lonergan's perfectionism in the editing room, others an unruly, 168-page shooting script; whispered reports from test screenings weren't overly encouraging. For better or worse, I had assumed by now, the film was lost to us.
Happily, I was wrong. Making good on a brief but firm promise made a year ago, distributor Fox Searchlight has named a September 30 release date for the film.
New York and Los Angeles audiences will lay eyes on it first, with the extent of the expansion yet to be determined. Despite the timing, it seems the film will not be playing any of the autumn festivals, from which some might deduce a certain lack of confidence in the film — on paper, an indie drama from Lonergan should be festival catnip — but could equally be put down to protectiveness on the part of Searchlight.
The stories about "Margaret"'s offscreen troubles have long since eclipsed any talk of the film itself; with many critics no doubt eager to seize upon the film and assess what the root of the trouble might be, quietly slipping it into theaters without too much advance buzz either way could be the most sensible strategy. (The comparatively early release date suggests, hardly surprisingly, that Searchlight has higher awards expectations for "The Descendants" and even "Martha Marcy May Marlene.")
What should we expect from "Margaret," then? In case you've forgotten the film's essential pitch, it's reportedly a character-oriented drama mapping out the aftermath of a Manhattan school-bus accident, with Paquin as a traumatised 17 year-old witness to the events, Matt Damon as her teacher and Mark Ruffalo as the bus operator with whom Paquin's character becomes legally entangled. (Margaret, by the way, isn't the Paquin character's name — the title is a poetic reference.)
This all sounds like rich material for a writer as humane and socially aware as Lonergan; "You Can Count on Me," like much of his theatrical work, used intimate personal crises to spider into a larger portrait of community malaise, and "Margaret" promises to expand on that instinct with a wider spread of subjects and characters. Whether that expansion is beneficial remains to be seen: some artists thrive on a sprawling canvas, but the length of Lonergan's struggle to complete a final cut to his satisfaction raises concerns that he might not have a handle on his material.
Martin Scorsese, it has been been repeatedly quoted over the years, described an early cut of the film as a "masterpiece"; other test-screening witnesses, including commenters on this site, have described it (or possibly a different cut) as sorely unfocused. What cut we'll be seeing in September is uncertain, though we do have assurance that it will be Lonergan's — through the film's assorted legal wrangles (detailed here), he retained creative control of his difficult baby.
One hopes the final film we see is the result of a satisfied artist having worked his way through a creative blockage, and not merely an incomplete artistic surrender of sorts. (Meanwhile, the six-year timewarp of watching it could prove a double-edged sword: Paquin's arguably a more marketable name these days, but will audiences find it distracting watching the 29 year-old actress in a role her image has subsequently outgrown?) Either way, I'm now more curious to see "Margaret" than just about any other high-end offering this season, and relieved that a talent as valuable as Lonergan — and everyone else, really — can finally move on to pastures new.