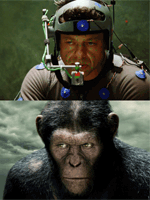 There has been a lot of talk this week about Andy Serkis' stirring performance-capture portrayal of ape rebellion leader Caesar in "Rise of the Planet of the Apes." In many quarters, writers are calling for consideration in the Best Supporting Actor category. It's a song and dance Serkis and those of us who follow the film awards season have heard before, but I wonder if it's the wrong approach.
It's important to face facts if you want Oscar recognition for Serkis. The Academy — an actor-dominated body — is not ready to hail performance-capture outside of the effects arena. Period. Two years ago, "Avatar" showed us that there was fear there when it missed out on a Best Picture win. It was admittedly one of a handful of issues that served as a stumbling block, but the sense (amplified by competing Oscar campaigns) was that a quickly advancing technique could one day render actors obsolete. Yes, it was a ridiculous fear, but it was a fear nonetheless. And for some, I'm sure it still is.
The truth is, without a considerable groundswell, I don't think we'll see a performance-capture portrayal recognized with an Oscar nomination for some time. That having been said, a number of our readers mentioned an option in yesterday's Weta post that I and certainly others have been considering for a while now: a Special Achievement Award.
According to the Academy's official literature, the Special Achievement Award "can be given for an outstanding contribution to a particular movie when there is no annual award category that applies to the contribution." For years (since its institution in 1972), it was mostly given for visual effects and sound effects achievements, as those categories required a certain number of nominees in order for an Oscar to be awarded. When there wasn't (and it happened often enough), a Special Achievement Award was presented to a worthy contender if there was one.
Outside of those instances, the honor has been given three other times:
• 1977: Benjamin Burtt, Jr., for the creation of the alien, creature and robot voices featured in "Star Wars." (This is basically sound editing recognition, though.)
• 1988: Richard Williams, for the animation direction of "Who Framed Roger Rabbit?."
• 1995: John Lasseter, for his inspired leadership of the Pixar "Toy Story" team, resulting in the first feature-length computer-animated film.
These were valid instances and noble gestures on the Academy's part. But I'd wager at least two of them pale in comparison to the legacy Serkis is leaving with his work in performance-capture.
Nine years ago, Weta Digital, Serkis and filmmaker Peter Jackson showed us what was really possible with performance-capture by breathing life into Gollum in "The Lord of the Rings: The Two Towers." Three years later, Robert Zemeckis would use his take on the technology to give us a full performance-capture feature film (which kicked off audience interest) in "The Polar Express."
The next year, Jackson stepped up his approach. Serkis suited up once more, this time portraying the larger-than-life title character of the remake "King Kong." The possibilities were really beginning to widen, and a year later, Bill Nighy and effects wizards would give us the delicious character of Davy Jones in "Pirates of the Caribbean: Dead Man's Chest."
Two years later, another breakthrough. After tinkering with the technology with Digital Domain on Orville Redenbacher commercials, David Fincher aged Brad Pitt backwards in "The Curious Case of Benjamin Button," rooting the technology in narrative and making a case for its usage in dramatic filmmaking.
And the next year, the doors blew off. James Cameron gave us his years-in-the-making "Avatar," bringing things dangerously close to photo-realism and inventing an entire race of aliens in a Playa Vista aircraft hangar (with Weta's formulas in tow, of course). Twelve months later, we saw Jeff Bridges confront his much-younger self in "TRON Legacy," adding to the intrigue.
Along the way, animated films made use of the technology, from "Sinbad: Beyond the Veil of the Mists" (the first film to be fully motion-capture), to "Monster House" to "Happy Feet." Later this year, Steven Spielberg will push things a bit farther in that regard, using performance-capture to animate "direct-to-canvas" and preserve the art of Georges Prosper "Hergé" Remi with "The Adventures of Tintin: The Secret of the Unicorn."
But Serkis's work in "Rise of the Planet of the Apes," hitting screens this weekend, reminds us — perhaps crucially — that performance-capture is only as good as the performer. And no one is better at it than he is.
So I, and I'm sure many more, would like to humbly suggest that the Academy consider dusting off the Special Achievement Award and really think hard about what Serkis and Weta started in 2002. This year's Oscar ceremony will be close enough to the 10-year anniversary of that seminal moment in film history, so what better time to recognize — outside of the bloody arena of Oscar campaigning — truly visionary work that has made, and will continue to make, a considerable impact in this industry?
It's because of what Serkis has brought to the table, by the way, that this shouldn't be cast away as a segment on the ghettoized Scientific & Technical Awards satellite ceremony, which is little more than a blip on the Oscarcast. You're talking about what will likely be seen as the biggest innovation of this decade in cinema. It deserves a moment to shine, and it deserves to have an ambassador like Serkis, a talented Actor with a capital "A," take the stage on its behalf. Perfect synergy.
Maybe the suggestion comes off as half-measures. I'm sure Serkis would like for his work to be considered proper performance by the Academy and be allowed to compete alongside other performances, but the fact is we're barely at a place where animated films are considered "real movies" by this group. So baby steps are in order. A Special Achievement Award would be a rousing historic moment, and another noble gesture on the Academy's part.
[Photo: 20th Century Fox]