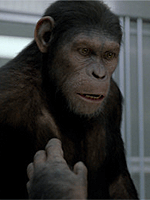 I missed last night's big press screening of "Rise of the Planet of the Apes" (inexplicably held until the last minute and then embargo-requested — didn't hold — by the studio despite people loving the film). I will, however, be catching it tomorrow night, but one thing we've been counting on since the beginning is a nomination for Best Visual Effects.
Now, it's looking more and more like the film could just walk away with the statue. Put state-of-the-art effects in a bad movie and you have an uphill climb. Just ask "Transformers." The Academy at large doesn't know what it should be looking for in the below-the-line categories, so more often than not, members just pick their favorite of the bunch.
However, if you have undeniable effects work in a blockbuster that actually goes over well with the Academy, you have something to work with.
Looking at my predicted five nominees in the category to the right, all but one of the films having been seen, you start to think "Rise of the Planet of the Apes" will be the only choice. And an informative featurette is a great way to kick off the campaign, so Fox has put together a nice look at the process. Check it out below.
[Photo: 20th Century Fox]