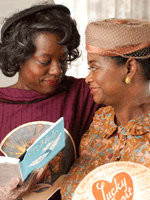 Now that I'm done crying my eyes out, a few words on Tate Taylor's "The Help," which I caught this afternoon.
It's a beautiful film, safe, sure, but it knows where to lay the emotional hammer down and where to let the rock keep skipping on the surface. Most striking is the ensemble, as there isn't a single bad performance in the film. In fact, I'd say all of the them are comfortably above average, the highlights coming from Viola Davis and Octavia Spencer. But then Jessica Chastain was my personal favorite. Oh, and what about Sissy Spacek leaving you in the aisles?
You see? It takes a real special touch to get this kind of across-the-board perfection out of a cast. Bryce Dallas Howard has pinpoint devilish precision. Allison Janney wiggles her way into your heart even after you don't want her there. Ahna O'Reilly captures that locked-in submissive state wonderfully. Cicely Tyson punches you in the gut with just a few minutes of screen time. On and on. Oh, and Emma Stone…duh.
Stone is great here, a solid anchor. She has a wallop of a line to her mother — four little words — that are delivered with such conviction that I thought I'd fall out of my chair weeping. (Okay, going overboard, but it was a hell of a line reading.) But she's really just part of the vast assemblage here, and it's really the best ensemble performance I've seen this year. Hands down.
Based on a best-selling novel that I wouldn't know anything about (but certainly hit home with the "Eat Pray Love" crowd), the film tells the story of Skeeter, an upstart journalist dreaming of a chance to write something meaningful in early-60s Jackson, Mississippi. She finds that opportunity when she decides to write a book from the point of view of "the help," African-American maids who keep the ship afloat and, most importantly, are as — and in most cases, more — responsible for raising white children as the parents. It's dangerous to tell these stories in the Jim Crow south, but it's a calling for Skeeter and a duty for the help.
And the story just sings. It sings because the character work is just so pointed and profound. I thought the film had a bit of a soft landing, as certain lessons you want to be learned just aren't laearned, but then again, what would be more truthful than that? The whole thing ends up hinging on a (gross) gag that ever-so-slightly diminishes things, but it's never not good for a laugh and it's apparent everyone is well aware of the ridiculousness of that particular point, so it's harmless. I was just caught up in how much I genuinely cared for the characters. And I think that's always high praise.
Speaking of "Eat Pray Love," which opened on August 13 last year, "The Help" is slated for an August 10 release date, going after that late-summer, best-seller adaptation money, I suppose. And that's wise. So awards stuff is probably in mind but a secondary goal at the moment. Regardless, there would be a bevy of campaigns you could launch on this one. As I said, Jessica Chastain was best in show for me. She's having a real coming-out this year. But Viola Davis would be the obvious choice to rally around, and assuming Disney wants it, it's definitely in the cards. Octavia Spencer is hilarious and a natural fit, too, so maybe just flip a coin.
The point is, everyone on this cast deserves a piece of whatever awards attention may be coming the film's way. Bravo to all involved.
[Photo: Walt Disney Pictures]