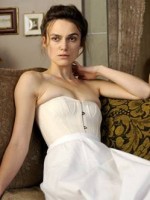 These days, so much media speculation precedes the announcement of any major festival lineup that the eventual unveiling comes almost as an anti-climax — or at least it would do if the long-expected films weren't so appetizing in the first place. As was the case with the Toronto lineup on Tuesday, the just-revealed programme for this year's Venice Film Festival is as heavy on highlights as it is light on surprises, and that's good enough for this Lido-bound journo.
In recent years, as Berlin has receded, Venice has grown into an increasingly bolshy competitor to Cannes, taking a slightly riskier, younger approach to Competition programming while nabbing enough sexy, big-name auteur titles to draw the headlines. It's a balance that has paid off handsomely in recent years: "The Hurt Locker," "Brokeback Mountain," "Black Swan," "I Am Love" and "A Single Man" all debuted in Venice before going on to greater success elsewhere.
This year's Competition lineup would appear to continue the pattern: for every long-established auteur in line for the Golden Lion, there's at least one buzzy up-and-comer arriving on the back of a breakthrough hit.
In the former category, we have Roman Polanski ("Carnage," which as yet hasn't been scheduled for Toronto), David Cronenberg ("A Dangerous Method"), William Friedkin ("Killer Joe"), Todd Solondz ("Dark Horse") and Aleksandr Sokurov ("Faust"); in the latter, Tomas Alfredson ("Tinker, Tailor, Soldier, Spy"), Andrea Arnold ("Wuthering Heights"), Steve McQueen ("Shame"), Yorgos Lanthimos ("Alps") and Marjane Satrapi ("Chicken With Plums").
It's interesting, by the way, that the last-named four directors are all coming to Venice after winning Cannes prizes for their previous films. Showing loyalty to the Lido, meanwhile, is Italy's adopted son George Clooney, whom we already knew would be kicking off the Competition with "The Ides of March"; he took the festival's screenplay prize in 2005 for "Good Night, and Good Luck," and will be hoping to go at least one better this time.
As usual, some of the festival's biggest draws will be premiering out of competition, including Steven Soderbergh's star-stuffed "Contagion," Madonna's "W.E.," Mary Harron's "The Moth Diaries" and Al Pacino's "Wilde Salome" — the latter in compliance with a recently passed law stating that each major festival must program at least one Jessica Chastain film to meet quota. Closing the festival — as a reward for those staying to the bitter end, rather than jetting off to Toronto — is "Damsels in Distress," the first film in 13 years from American indie oddball Whit Stillman. It stars Greta Gerwig and Adam Brody; here's hoping it ends the festival on a sweeter note than last year's disastrous closer, "The Tempest."
The festival's sidebar selections, Orizzonti and Venice Days, tend to get far less press, but it's unwise to ignore them: recent Oscar nominee "Incendies" and the aforementioned "I Am Love" are two recent slow-burn successes that premiered in these lower-profile strands. Of course, it's hard to spot such breakout titles in advance — rather, they build by word of mouth at the festival itself. Still, several recognizable names pop up in this year's sidebars, including James Franco — this time premiering his Sal Mineo biopic "Sal."
Also on the list are new documentaries from Jonathan Demme, Frederick Wiseman and Ross McElwee, while Canadian director Jean-Marc Vallée's French-language romance "Café de Flore" is somewhat surprisingly premiering there instead of Toronto. (Amusingly, the press release refers to Vallée returning "six years after 'C.R.A.Z.Y'," as if "The Young Victoria" had never happened.)
Disappointments are few, particularly with it already having been confirmed on Tuesday that Terence Davies' Rachel Weisz starrer "The Deep Blue Sea" would be premiering in Toronto. Many were expecting Wong Kar-Wai's "The Grandmasters" to show up here, though the director is famously fiddly in the editing room; perhaps more of a surprise is the absence of the Brillante Mendoza-Isabelle Huppert collaboration "Captured." (Mendoza's last film, 2009's "Lola," debuted as the surprise film at the 2009 fest — could he possibly get that slot again?)
For the third year running, I'll be providing on-the-ground Venice coverage for the duration of the festival, which runs from 31 August to 10 September. I'll preview the lineup in more detail closer to the time, but looking at this lineup, I'm already getting antsy. On paper, I'm perhaps most intrigued by Andrea Arnold's reportedly revisionist take on Emily Brontë and whatever beautiful insanity Lanthimos has dreamed up to follow "Dogtooth" — but I'm just as eager for the punches I can't see coming.
Check out the full lineup at the festival website.
[Photo: Sony Pictures Classics]