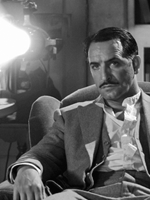 (UPDATED: 8/29)
Now that the Toronto and Venice line-ups have been unveiled (though we have a few more Toronto announcements to come), I figured I'd take a few stabs at sussing out the Telluride crop this year. I haven't been a good journalist and called around or anything. Just spinning my wheels.
One studio that always has a big presence at Telluride is Sony Pictures Classics, and this year, honchos Michael Barker and Tom Bernard have a full plate once again. Of that stable, David Cronenberg's "A Dangerous Method" is hitting both Venice and Toronto. It's very possible, then, that it will kick things off in the Rockies.
Roman Polanski's "Carnage," meanwhile, was announced as a Venice play this morning. It would be easy enough for the team to bring the film there and not worry about getting the filmmaker in town (seeing as he can't legally step foot in the country), saving his press run for Venice. (7/28 UPDATE: The film has been set for New York fest, so it seems unlikely we'll see it in Telluride.)
Sticking with Sony Classics, Pedro Almodovar's "The Skin I Live In" could certainly keep the festival pace going after Cannes and before heading off to Toronto. And Jeff Nichols's Sundance fave "Take Shelter" might as well poke through one more time before a September 30 release. So I wouldn't be surprised at all to see all four of those hit the fest.
The Weinstein Company has been making Telluride a normal stop lately. And I would bet the farm on seeing "The Artist" pop up in Telluride before going on to make really big waves at Toronto (and following rousing success in Cannes). Madonna's "W.E.," meanwhile, will be hitting Venice and Toronto, so it stands to reason it will show up.
"Coriolanus" hasn't shown up on the festival circuit since bowing at Berlin back in February. So it's possible they bring it around to test the waters before heading on to Toronto. "My Week with Marilyn," however, hasn't been scheduled for the festival spread yet, so perhaps it'll hold off. Ditto "The Iron Lady."
Fox Searchlight came out really strong in Telluride last year with the one-two-three punch of "Black Swan," "Never Let Me Go" and "127 Hours." I'm sure we'll get a few looks from the studio this time around, and considering how often Alexander Payne makes the trip (even without a film to promote), I think it's safe to assume "The Descendants" will begin its festival run there. Sundance and Cannes have already been stops for "Martha Marcy May Marlene," with Toronto still to come, so I imagine it'll show up, too.
Pete Hammond has already reported that Jason Reitman's "Young Adult" will skip the festival circuit entirely, which is curious, given Reitman's track record hitting Telluride and Toronto with his last two Best Picture nominees. But with Paramount taking Sundance hit "Like Crazy" to Toronto, it's possible they'll make a stop in Colorado with that one, at least.
Last year, Roadside Attractions brought "Biutiful" up to the mountains with the filmmaker in tow. This year the studio is planning a stop in Toronto for the Glenn Close-starrer "Albert Nobbs," so I wouldn't be surprised to see it kick things off in Telluride.
Focus Features hasn't made Telluride a regular stop in recent years, but with Tomas Alfredson's "Tinker, Tailor, Soldier, Spy" heading to Venice, there's a possibility it shows up in Telluride, too. Or maybe that's just wishful thinking on my part. Then again, the studio also has indie "Pariah," which seems like the kind of film that would be welcome in Telluride. But I have the sinking feeling I'll have to wait on Gary Oldman's Oscar play a little longer.
Nicolas Winding Refn's "Drive" has already seen a big festival boost by winning the director a prize in Cannes. The film will be making the Toronto trip, so maybe Film District will want to drop it on unsuspecting well-to-dos taking in a nice film weekend in Telluride. (I would.)
Finally, there's Sony. George Clooney's "The Ides of March" will be bowing at Venice. I have a feeling that's a one-time deal, but Fox Searchlight hustled "Black Swan" back to Telluride after an opening night Venice premiere last year, so, no excuses! "Moneyball," meanwhile, is hitting Toronto, but seems a bit glossy for Telluride. Maybe the studio will by-pass Colorado altogether. They don't usually make the trip. (And, naturally, "The Girl with the Dragon Tattoo" will come out big in December and won't be a festival play.) The Clooney makes the most sense, if anything.
There are a few scattered possibilities otherwise. Magnolia may or may not want to build some momentum behind "Melancholia" in advance of its November 11 release (if they don't think Toronto will be enough for that). But that would be a bit of a surprise, I think. Oscilloscope might want to bring "We Need to Talk About Kevin" back around before pushing on to Toronto, too.
Warner Bros. is taking "Contagion" to Venice (out of competition), so maybe it will make a stop, but it doesn't seem likely. The studio brought "The Town" and "The Informant!" to Venice in recent years for the sheer star boost on the Lido, and that seems to be the case here, too.
Then there are the films still looking for a distributor. Oren Moverman's "Rampart" will be hitting Toronto, and I'm very interested to see it, so hopefully it'll take an early shot at landing a buyer in Telluride. Ditto Sarah Polley's "Take This Waltz" (which will naturally play Toronto, a favorite stop for the Canada native). "The Deep Blue Sea" will be hitting Toronto, but not Venice, which is a bit curious. But any of those three could make a quick detour on the way there.
One final film worth mentioning is Francis Ford Coppola's "Twixt." As noted in Comic-Con, I'm over the moon for the kind of experimentation Coppola is up to with this one. Since he's taking it to Toronto, it seems to me a good place to stop and test out the concept would be Telluride. Not so much pressure. But maybe holding off for the big Toronto media blitz is preferred.
And I'm probably forgetting something. (UPDATE: Indeed, I am, as Alex reminds me below. Steve McQueen's "Shame" could be a nice stop-over given the director's showing up there with "Hunger" three years ago.) But that's enough for now. So, to tier it up a bit, this is what I'm thinking.
LIKELY
"The Artist"
"A Dangerous Method"
"Dark Horse"
"The Descendants"
"Le Havre"
"The Skin I Live In"
"Shame"
QUITE POSSIBLE
"Albert Nobbs"
"George Harrison: Living in the Material World"
"The Lady"
"We Need to Talk About Kevin"
MAYBE
"Carnage"
"The Deep Blue Sea"
"Drive"
"The Ides of March"
"Killer Joe"
"Rampart"
"Take This Waltz"
"360"
"W.E."
NOT LIKELY
"Melancholia"
"Moneyball"
"My Week with Marilyn"
NOPE
"Contagion"
"The Iron Lady"
"Martha Marcy May Marlene"
"Take Shelter"
"Tinker, Tailor, Soldier, Spy"
"Young Adult"
Now, maybe I should make some calls and see if I can firm any of these up rather than just WILDLY SPECULATE. I just hope there's a surprise akin to "The Way Back" showing up last year. That was a real treat.
More in a month's time, when these fests actually hit. Telluride will run September 2-5.
[Photo: The Weinstein Company]