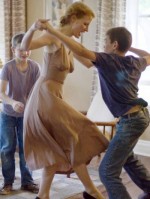 Right, I stayed out of the Oscar prediction racket for a while — partly to give myself a vacation from any such thoughts after 2010's long, wearying season, and partly because I found myself struggling to blindly sort a pile of late-year prestige titles that struck me from afar as a little lean.
The latter problem hasn't really resolved itself, but with the recent revelation of key autumn festival slates, a kind of faint shape to the season is starting to emerge — and with Kris already having kicked off the guesswork earlier this month, I thought I may as well draw up a list of pre-festival nomination predictions, a first draft ready to get substantially rewritten as the hits and misses of Venice, Telluride and Toronto emerge.
As my predictions took shape, two films emerged dominant: one of them the big-name spectacle near the top of everyone's list (Spielberg's "War Horse," of course), the other the foreign wild card that I've nurtured a strong hunch about ever since its breakfast-hour Cannes screening. Yes, the Weinstein-backed silent Hollywood homage "The Artist" looks nothing like a conventional Oscar juggernaut at first glance — but that could be its strength if a number of the more typically baity awards prospects lean toward the generic.
In picking a number for the now-flexible amount of Best Picture nominees, I found myself hypothesizing which films could conceivably generate the passion, as opposed to mere respect, to land the required 5% of #1 votes — hence the predicted nomination for "The Tree of Life" ahead of more safely Oscar-targeted fare. Over-thinking the #1 vote factor can be a little short-sighted — I spent much of the 2008 season, for example, needlessly puzzling over who could conceivably put "Frost/Nixon" at the very top of their ballots — but nonetheless, I found myself instinctively veering towards the lower end of the 5-to-10 scale.
Any more detailed discussion at this point would be foolhardy, so I'll leave you to peruse my predictions for yourself and ask your own questions. (There's also a year-round link to them at the bottom of Kris's prediction sidebar.) Unlike Kris, I've thrown in some foreign-language and documentary predictions, while some dark horses are scattered throughout to keep things fluid and interesting at this early stage (my, that Best Actress race seems to be skewing indie) — and as always, I think half the fun of early punditry is guessing which prestige titles won't go the distance.
Predictions here. Enjoy or ignore as you will, but don't treat it as anything more than a bit of sport.
[Photo: Fox Searchlight]