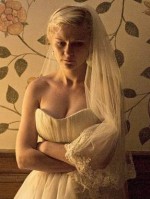 I should really have drawn attention to this earlier, but as Jeff Wells pointed out on Hollywood Elsewhere, Lars von Trier's Cannes hit "Melancholia" began a one-week, once-a-day screening run at Los Angeles' out-of-the-way Laemmle Fallbrook 7 theatre on Friday — a handy opportunity for local film buffs with free afternoons to sneak a look at the film months ahead of its November 11 release in the US. (Most European viewers haven't quite so long to wait.)
As you can gather from my enthusiastic Cannes review of the film, it's worth getting impatient for. One of von Trier's most elegant and elegiac works — the silly controversy over his unwise Nazi-related comments at the festival is a red herring that doesn't reflect remotely on the surprisingly subdued film — it showcases the man in full command of his formal powers, as well as a fascinating ensemble, the pleasures of which extend beyond Kirsten Dunst's fairly rewarded performance.
This early-bird release has been arranged, presumably, with the awards season in mind — the requisite week-long qualifying run that enables distributor Magnolia to give the film a multi-platform release later in the year without damaging its Oscar eligibility. It's honorable that they're at least treating its awards chances as a theoretical possibility, where other indie outfits don't bother with such precautions.
I don't, however, see "Melancholia" making much headway with Academy types — while some pundits have been projecting a nomination for Dunst, the first American actress to take the Cannes award since eventual Oscar winner Holly Hunter, her fine joint-lead performance doesn't appear to me to strike the emotional tone that usually impresses the acting branch. (Only one of von Trier's leading ladies, then-newcomer Emily Watson, has ever caught the Academy's eye, and that was for a far rangier turn in a film that was a major critics' cause.)
Anyway, this is immaterial to the immediate matter at hand: the chance to get in early on one of the year's best films. "Melancholia" screens until Thursday at 1.10pm — if you're in the area, take a long lunch break, check it out and tell us what you think.
[Photo: Magnolia Pictures]