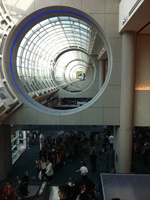 Well, like I said. Another year, another Con.
For a convention I expected to be a bit more laid-back than usual, it sure was anything but. I guess I put that on myself by hustling back to LA for a concert and back down again to wrap things up, but even having covered just a sliver of the event (compared to the thorough coverage from outlets with multiple on-hand correspondents, who do it so well), boy am I glad it's over.
If you've read the coverage then you know my extended thoughts, but here's a recap nevertheless.
The highlight of the entire weekend was, for me, finally seeing Nicolas Winding Refn's "Drive." The film is an invigorating experience, an artful meditation that takes the most simplistic of narratives and turns it into a thorough character study.
The highlight of the actual convention experience was definitely Francis Ford Coppola, whose inspiring plea on behalf of progressive thinking in the cinema was just a delight. I got to thinking more and more how brave it is for an artist to open himself up like that, to show the gears inside the clock. Films are so much about revealing only the best, most pre-digested completeness of the experience, but for Coppola to put out such an exposing look at his new process was frankly touching.
Steven Spielberg's first appearance at Comic-Con (with Peter Jackson in tow) was a good bit of buzz-fanning for "The Adventures of Tintin: The Secret of the Unicorn." (And FYI, I've added the audio of the press conference, as promised.) Spielberg was also on hand for the world premiere of Jon Favreau's "Cowboys & Aliens," which…
…is a train wreck. Some were embargoed from reviews, others weren't, but I don't want to wallow here. I'll just blame lazy screenwriting from fad writers for a very hollow experience and a film that is painfully about nothing. I won't get into it any further now, so don't ask.
Comic-Con tends to serve as a breeding ground for buzz-building and establishing that "gotta see it" attitude. The movies that nailed that for me this year were both featured in the Fox panel: Rupert Wyatt's "Rise of the Planet of the Apes" and, most especially, Ridley Scott's "Prometheus." The latter can't get here soon enough and I'd say the pump was nicely primed by the studio. (And the sizzle reel from "In Time" has been added to that post.)
And finally, seeing Rick Baker among his people for a reverential focus on his career was a great start to my Con. He even managed to get me a little interested in "Men in Black III," which is a feat to say the least.
The showroom floor this year was, well, same as it ever was. Lots of things to catch the eye and make me want to deplete the checking account, but I was reserved. It's an embarrassment of riches in there. But getting a glimpse of game play for the upcoming "Batman: Arkham City" was, by far, the biggest treat. That thing looks BEAUTIFUL.
The biggest take-away from the whole thing was, unfortunately, the bone-headed planning. When you're turning away thousands at Ballroom 20 for "Game of Thrones" but barely filling Hall H for things that generate much less enthusiastic interest, IT'S TIME TO RETHINK IT. "Supernatural" filled the hall this morning, so take friggin' note. Move some of this TV stuff over.
Do they do any pre-convention water-testing? Maybe they should. It would help gauge interest in this or that. The "Beavis and Butt-Head" thing, for instance, which was in tiny Room 6A, had a line snaking around the outside of the convention center. Naturally, I missed it. Same with the Legendary Pictures pre-production panel.
I know this is a massive event to plan, but really, the problems are too apparent to just ignore. I really hope someone gets wise and addresses it, because it's becoming a bit of a joke. And when the thing people are talking about most after Comic-Con is numb-skull planning decisions, you have to admit you have a problem.
Anyway, that wraps it up. I hope you enjoyed the modest coverage, but I'm happy to be back. And before long, all eyes will be on the awards season. It'll be here sooner than you think.
A handful of parting shots from San Diego: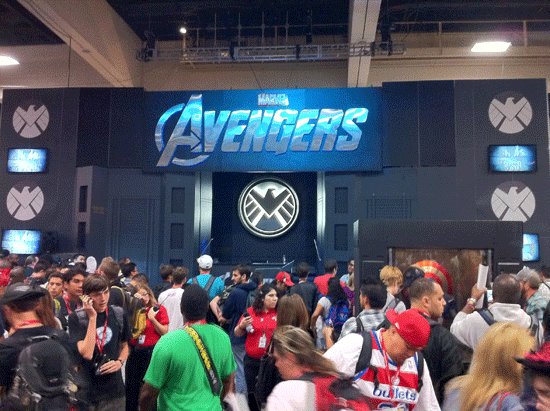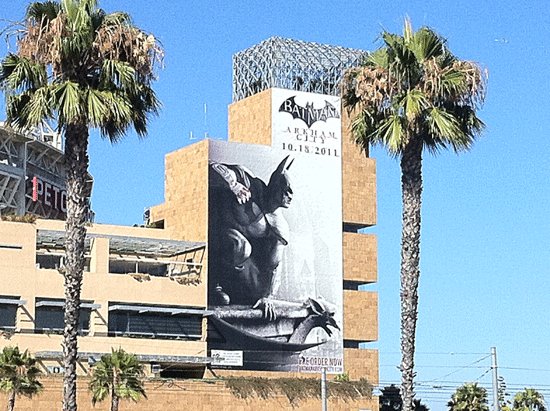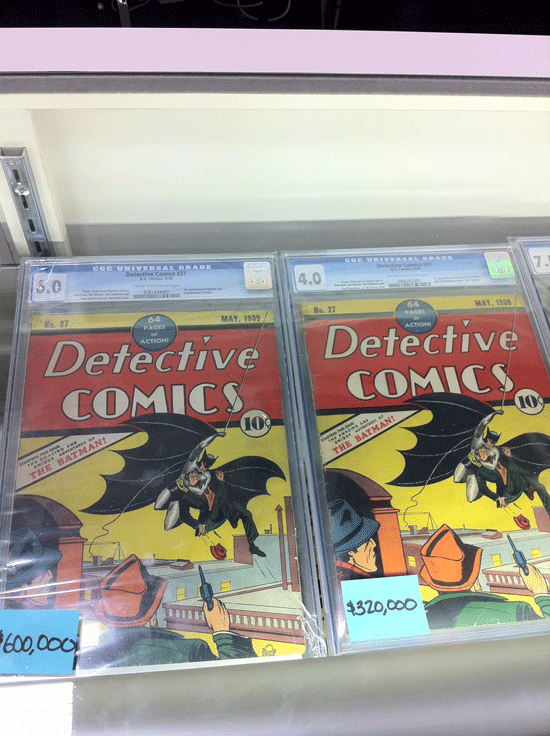 [Photo: Kristopher Tapley]