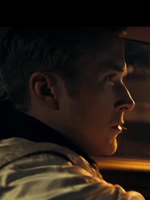 I've had to sit on my feelings on Nicolas Winding Refn's "Drive," which had a special screening here Thursday night, because I haven't found a window to write about it. That's either good or bad, I don't know, because the film has just continued to grow in my mind, but I don't want to over-inflate expectations.
In so many words, though, I think Refn is the most exciting filmmaker working today. And I haven't even seen "Valhalla Rising" or his "Pusher" trilogy yet, but just to go by "Bronson" (a personal top 10er in 2009) and his latest, I feel an invigorating injection of originality in the cinema landscape.
Guy reviewed and enthused about "Drive" at Cannes, so you've already digested one thorough assessment here (and one we share completely). So allow me to be a bit more abstract in my thoughts. I'll just rattle them off as they come to me.
"Fresh." That's the word that kept coming to mind. The actual plot couldn't be more rote or by the numbers, but Refn — as appears to be his trademark — merely uses genre as a springboard for mining character intricacy and in ways we just haven't seen in quite a while.
I don't know if anyone has made the comparison yet (I've avoided most reviews), but the film reminded me quite a lot of Michael Mann's neo-noir "Thief," both in narrative drive and in stylistic signature. Each film tells a story of a man skilled on the fringe who wants desperately to have love but, ultimately, can't escape who her is and, more importantly, isn't allowed the peace he wants for himself. Refn calls on a little Kavinsky at the top and College in place of Mann's Tangerine Dream.
Speaking of Mann, I was really taken by the reverence for urban Los Angeles as captured by Refn's vision. I don't think another director has so completely captured the aura of the city like Mann, but Refn comes really close. It's almost like you can sense a love for the city's tangled web of concrete, glass and steel.
So I asked Refn about that at an after party. He said he actually believes Los Angeles to be a beautiful city, much more so than a city like New York, and he was very much interested in conveying that. It's a living, breathing, seething environment with dollops of serenity, and Refn finds them well.
Refn is perfect for Comic-Con, by the way. He's having a blast here and a Film District panel (shared with filmmaker Guillermo Del Toro, among others) proved that he should be a Hall H mainstay. He tells wonderfully insightful and funny stories (like his first meeting with Ryan Gosling, which was a disaster and ended with the director in tears as REO Speedwagon's "Can't Fight This Feeling" played on the radio — it's been making the rounds).
And "Drive" is a good fit for the Con, too, as Refn considers it to be a superhero origin story of a sort. It's a tale of a man changing into this superhuman character of purpose. And he has is own logo to boot (an orange embroidered scorpion selected by Refn on the back of a satin jacket selected by Gosling).
I guess I should speak on Gosling, too. He's doing everything right in his career. Project selection (well, save for "All Good Things," in which he was nevertheless brilliant), acting choices, everything. Here he's a compelling powder keg drawing on his most penetrating faculties. He works off Carey Mulligan to showcase a near-silent-film romance and he carries an authority and calm that is staggering to behold.
Albert Brooks is also pitch-perfect in a role I wish was a bit beefier. He plays a mafia baddie exactly how you'd expect Albert Brooks to play him, but with a highlight of the sinister, which makes it a gripping little portrayal. And Ron Perlman is devilish and a real presence.
I don't think "Drive" ultimately tops "The Tree of Life" for me this year, but it settles in comfortably right below. It's a burst of fierce creative will and I cannot wait to see it again. So, so good.
[Photo: Film District]