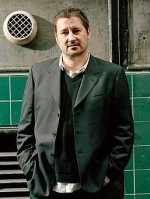 I'll level with you, folks: there are a lot of prestige titles coming out in late 2011 that I'm itching to see, and "The Iron Lady" isn't one of them. Putting to one side concerns about Phyllida Lloyd's filmmaking prowess — I thought her ill at ease with the medium in "Mamma Mia!", but she's an accomplished theater director and everyone deserves a second chance — Margaret Thatcher's story requires ambiguity and incisiveness in the telling (and playing) to avoid predictable rhetoric, and the margin for error is a fine one.
That teaser trailer released a few weeks ago wasn't terribly illuminating: the writing is jokey, while the flash of Meryl Streep's performance hints at "Julie & Julia"-scale broadness, but it's altogether too brief and context-free to offer a sense of the film's overall tone.
Indeed, the most intriguing thing about the trailer is the unexpected use of Clint Mansell's brooding "Moon" score as accompaniment — and as it turns out, there was more to that particular choice than initially met the eye. A reliable first-hand source informs me that Mansell is on board to score the actual film, which adds some lustre to a respectable but slightly unsexy list of below-the-line contributors.
Mansell — the former rock musician best known, of course, for his rich, adventurous collaborations with Darren Aronofsky — may carry a certain cachet of black-edged cool, but it'd be a mistake to make any assumptions about the film's approach based on his presence: after all, his CV also features such lightweight projects as "Definitely Maybe" and "The Rebound." My source, however, claims Mansell has some "exciting" ideas for the film. In any event, his name is a welcome extra reason to anticipate "The Iron Lady," and another one to add to the list of Best Original Score possibilities.
[Photo: The Telegraph]