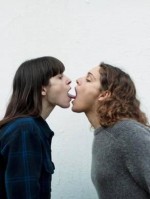 The Oscar race for Best Foreign Language Film — or, to use its formal title, Most Inoffensively Socially Conscious Non-English-Language Feature To Pass Through The Academy's Narrow Qualifying Hoops Whilst Remaining Sufficiently Low-Profile For Voters To Feel Like They Discovered It For Themselves — is truly the gift that gives all year round.
Scarcely have the previous year's nominees finally trickled out to US theaters, to a chorus of polite indifference, than countries begin formally submitting their chosen contenders for the next year's award — and the baseless speculation and generally befuddled head-scratching begins anew. In the past few weeks, Greece and Poland have become the first countries to enter the race ahead of the Academy's October 1 deadline — and while such early birds are rarely heard from again in the game, these two films (both from female directors, and one of which I've seen) are rather higher on the radar.
Poland, in particular, appears to have intensively focus-grouped the Academy's foreign-language branch and subsequently created their Oscar entry in a purpose-built lab: Agnieszka Holland's "In Darkness" is a true-life Holocaust drama about a Leopold Socha, a reformed petty criminal who heroically helped numerous Jewish refugees hide in the sewers of Nazi-occupied Lvov.
If that premise isn't baity enough — insert perennial joke about voters' predilection for WWII stories here — Holland is a name director with some Oscar history. Now a busy figure on the American TV scene (she was Emmy-nominated last year for directing the "Treme" pilot), she received a Best Adapted Screenplay nod in 1991 for another Holocaust survival tale, "Europa, Europa" — largely, it is assumed, as a rebuke to Germany for controversially failing to submit the widely acclaimed film for the foreign Oscar race. (To add insult to injury, the German committee refused to submit any film that year, claiming none of the possibilities were good enough.)
Holland was very likely cheated out of an easy win that year (the Oscar eventually went to a far lesser WWII pic, the Italian trifle "Mediterraneo"), and if any members of the branch have memories that stretch back to the 1991 race, that could work in her favor. Another major plus point: Sony Pictures Classics have already snapped up US distribution rights to the film. SPC know what they're doing, having backed four of the last five winners in this category, and several nominees besides. Things are looking good for the still-winless Poland to score their first nomination in this category since Andrzej Wajda's "Katyn" (a WWII drama, would you believe) in 2007.
By contrast, Greece's entry "Attenberg" has no such baitiness going for it — though it does have a certain practical and aesthetic kinship with 2010's most eyebrow-raising nominee, "Dogtooth." Yorgos Lanthimos's critically beloved but tough-sell story of parental repression and perversion was presumably assisted into the nominee circle by the executive committee formed by the Academy to counter the general voters' milquetoast tendencies; now the sophomore feature of Lanthimos's producer and protégée Athin Rachel Tsangari — produced, in turn, by Lanthimos — will be hoping for a similar helping hand.
I wouldn't count on it getting one — not least because, in the interests of parity, the executive committee is unlikely to use its powers on two such closely related films just one year apart. "Attenberg" could, as I wrote at last year's Venice Film Festival, be dismissed as "Dogtooth"-lite: in addition to common themes of sexual discovery and youth alienation, the films share a similar brooding, deadpan humor. (The curious title, if you're wondering, stems from the heroine's obsession with revered British wildlife documentarian David Attenborough.)
But Tsangari's gentler, more wistful film can stand on its own two feet: its sad-shuffle comedy and acute heartbreak have stuck with me over the months, while the Best Actress award won at Venice by beguiling newcomer Ariane Labed (over feisty competition, including eventual Oscar champ Natalie Portman) was one of the sharpest calls made by Quentin Tarantino's jury. Strand Releasing have the US rights; read my short review here and check out the trailer below.
[Photo: Strand Releasing]