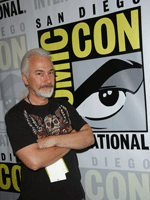 My first panel of this year's convention was a delightful focus on makeup artist Rick Baker, who is coming off his seventh Oscar win for last year's "The Wolfman." He drew a nice crowd of die-hards at the Hilton Bayfront's Indigo Ballroom, which let out a massive cheer when moderator Geoff Boucher of Hero Complex quipped, "Congratulations for not being at the 'Twilight' panel."
Ostensibly Baker was on hand as a bit of early buzz-stirring for Sony's "Men in Black III," and we got some great glimpses of the makeup work on the film. Baker said he was "so glad" to get the call from Barry Sonnenfeld, but when it came to expanding on the work he's already done on the series, it took some thinking.
"Everyone always says, 'We want to see aliens like we've never seen before,'" he said. "But it's a little hard now. Back when I did the 'Star Wars' Cantina scene, it was a lot different."
He ran a few ideas past the production that were aimed at just embracing the aliens we're used to in a tongue-in-cheek way. Saucer men, having a gag like E.T. answering a telephone, etc. Naturally, he was shot down, so he got to thinking on the time travel element of the film and found a different approach.
"I thought, 'Wouldn't it be cool in 1969 to have retro aliens, big brains, big bug-eyes? But they should be a totally different retro feel.' They agreed to it, thank God, so I got to do a lot of cool stuff."
Baker spent some time talking about his roots as a self-taught makeup artist growing up in California. He always read through the pages of Famous Monsters of Filmland magazine and, naturally, an early idol was Jack Pierce, who designed the classic Frankenstein's monster.
Then he began noticing articles written by Dick Smith, who is well known for his work on "The Exorcist" and "The Godfather," though he later won an Oscar for "Amadeus." Smith would write step-by-step processes for his work and he soon became Baker's true north star.
"I could tell it wasn't just a job with him," Baker said. "It was a passion. I wrote him a letter at 18 and enclosed photos of makeups I'd done. I got an instant reply. I can't believe I got it so fast. He could not wait to meet me. He said he'd never seen work like this from anyone, let alone an 18-year-old who was self-taught. I'll never forget that day."
Questions from the audience were refreshingly well-considered. Regarding new technologies in the field, Baker had this to say:
"People are always trying to pit the rubber guys against the pixel guys. When that started, we were all suddenly dinosaurs. But I actually embrace the technology. For 22 years now I've been doing my designs mainly on the computer. I got Photoshop 1.0 and I've been using it ever since. I call it 'no fear' painting. I love working that way and I'm all for using any trick in the book."
Asked which piece of work from his repertoire was most challenging, he offered the following:
"Aliens are actually easier to do than human makeup. 'The Nutty Professor,' for instance, those are some hard makeups. It's really difficult to pull off aging makeup. Any film where I had some human elements, those were more challenging."
Naturally, given the crowd, there were huge pops for "An American Werewolf in London" any time the classic of the genre was breathed, so Boucher obligingly got into that territory.
"It's hard to believe it was like 30 years ago or something," Baker said. "John Landis, when I was doing 'Schlock,' which was my second film and his first film, he told me he'd already written the script. He said, 'I want a transformation unlike anything we've ever seen before.' And we actually shot the script, which is so weird, because you don't do that in Hollywood these days. We're still waiting for the script for 'Men in Black III!'"
He added, almost immediately, "I probably shouldn't have said that." But Baker speaks truth! Really, he's a very candid guy, and Comic-Con is his comfort zone. "These are my people," he said. "I started out as a fan, like so many of us."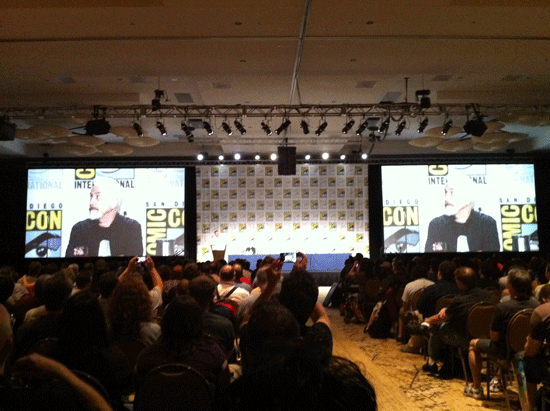 [Photos: Exposay, Kristopher Tapley]