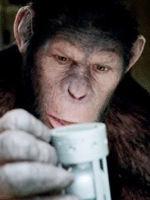 After all the "Twilight: Breaking Dawn" riff-raff cleared the drain this morning (sorry), I finally made it to Hall H in the afternoon, for 20th Century Fox's panel. The slate of films previewed included Ridley Scott's "Prometheus," Andrew Niccol's "In Time" and Rupert Wyatt's "Rise of the Planet of the Apes."
I figure I'll start with the latter, since it's fresh on the brain. This is actually a film I haven't been able to really take seriously for quite some time. I have a blind spot for it and just have kind of ignored it (while admitting that the effects stuff we've seen is impressive).
Well, after seeing two clips and a sizzle reel of the third act action sequences, I'm not only sold on seeing it, but I think it could actually be something great. Not to be all breathless. Maybe my expectations are so low that any favorable morsel would have been delicious, but I'm stoked for story elements now, not just technical aspects.
Andy Serkis was on hand to talk about his work in the film (and "Prometheus" screenwriter Damon Lindelof served as moderator for all three panels). Through performance capture, Serkis plays the pivotal lead ape role in the film, Caesar. As you know, this will mark the third considerable character he's brought to life with the technique, after Gollum in the Peter Jackson's "Lord of the Rings" films and the title character of Jackson's follow-up, "King Kong."
Lindelof noted, "You're rooting for the apes this time. You're kind of like the Che Guevera of apes." And asked about saddling back up to not only the performance capture process, but the role of another simian, Serkis spoke passionately.
"People said to me, 'Why are you playing another monkey,'" he recalled. "I had to go to great lengths to explain to them that, if I could just chart to you this character, Caesar, he's brought up by human beings, nurtured, loved, cared for, and at a certain point he realizes he's not the same as the humans. He's a freak, a Frankenstein's monster. He's thrown into this prison and brings this disparate group together and leads them. And, by the way, he's an ape."
Regarding performance capture, Serkis was equally enthused, noting that it is, to him, "a tool that enables actors to transport themselves into anything. The only limitation is in the imagination. It requires a lot from an actor to work with another actor in a performance capture suit, but you forget about it. It's a way to record another actor's performance."
Lindelof took the opportunity to ask Serkis how he ever came to the technique in the first place.
"I didn't really seek it out," the actor said. "Basically, it came to me. It was the way we pioneered during the creation of Gollum. What I love about it is the first time I put on a suit and saw in real time me lifting up my arm and seeing Gollum lifting up his arm. I just thought it was an amazing way to work, to be able to inhabit the soul of this character. There are no limitations to what it offers an actor."
And judging from what we saw of his work in "Rise of the Planet of the Apes," and on the heels of a film like "Avatar," which opened more doors of acceptance, I think we're on the verge of it finally being taken seriously as a performance technique, because the emotion on Caesar's face in nearly every shot he's in, it's so thorough and kind of beautiful.
So chalk me up as in the tank and ready to see how this one pans out in a few weeks' time.
Just prior to the monkeys we got a big glimpse of Andrew Niccol's latest, "In Time" (formerly "Now" and formerly before that "I'm.mortal"). I've read the script for this film, so I'll tread a little lightly, but Niccol called it "child of 'Gattaca,'" and I think that's fair.
The film tells a story set in the future when the aging gene has been switched off and everyone stops aging at 25. Only they are then given one more year to live, so time has become currency. The rich can afford to live and the poor scrap for seconds, minutes, anything, which are deposited on a bio-clock evident on the wrist.
Still with me?
The big reel of footage we saw played up the thriller aspects well and they may have pulled the whole thing off. (Justin Timberlake is the lead, and he was on hand with co-star Amanda Seyfried, though unfortunately, Lindelof didn't even bother asking her anything).
Niccol said something that was interesting, vis a vis the philosophical stakes of the story, I thought:
"The poor die and the rich don't live," he said. "The poor have no time to create anything new, no new cars, technology. And the rich have no incentive to create anything new."
It'll be most interesting to witness Roger Deakins's transition to digital filmmaking here, as he is in love with it now. And the footage looked great, so, here's hoping it all comes together nicely.
Alright, that's all for now. I'll save "Prometheus" for a separate post. I have to head back into the breach for the Entertainment Weekly Visionaries panel featuring Jon Favreau and Guillermo Del Toro.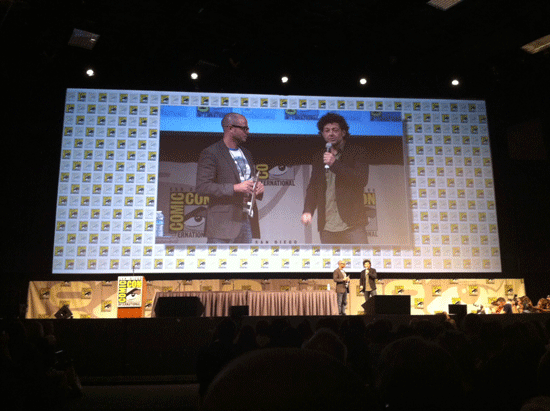 UPDATE: Fox has made the sizzle reel of footage screened of "In Time" available to the public. Check it out:
[Photos: 20th Century Fox, Kristopher Tapley]