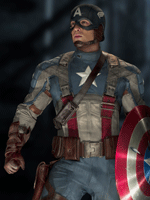 So, "Captain America: The First Avenger" wraps up the summer's superhero slate this week. Yes, we have "Cowboys & Aliens" on the way to keep the general comic book flow going, but Marvel's other bookend to the summer hits Friday, and, well, I thought it was just (yankee doodle) dandy.
"Robust" is the word that kept coming to mind while watching the film. You get a lot of bang for your buck here, with action set pieces galore, beefy production values (which might as well include Chris Evans's physique) and a generous splash of pulp 40s fun to keep it unique throughout.
I always thought Joe Johnston was the most interesting choice of Marvel's stable of directors leading up to "The Avengers" next summer. He's kept an even genre keel all of his career and "The Rocketeer" (20 years old and getting the anniversary treatment soon) is probably the nostalgia hook that really cinched it as a nice call.
Hugo Weaving is delicious as Red Skull. Tommy Lee Jones may have even cracked a smile and had some fun here. Some of the supporting players had less dimension than a cardboard cut-out and the love story rang flat (even if leaning on the longing was a bold choice), but it's a rousing take on the legend Ed Brubaker revitalized on the page recently, and a great final build to next year's epic assemblage.
I think the art direction — from master craftsman Rick Heinrichs — could find its way through the awards season this year. It's certainly deserving, and for my money, a better realization of another time than "X-Men: First Class" and its confused period trappings. Also, Alan Menken could finally even the score with Randy Newman by nailing down his 20th Oscar nomination for the original song "Star Spangled Man" (more here). And Anna B. Shappard's threads are another feather in her cap. (Can anyone do World War II better?)
Oh, and the visual effects of the film's first act will be a definite talking point. The believability factor of a scrawny Evans gets major brownie points. However, effects in other areas of the film were flimsy and felt a little cheap (though maybe that works in a retro kind of way or something).
Whatever the case, I count this as the best Marvel film since "Iron Man," and perhaps better. It conjures the most endearing character of the build thus far, a well-defined leader who will certainly leave audiences ready to follow him into Marvel's next ambitious project.
And I must say, though I've been critical of more than my share, this summer has been, on the whole, quite a rewarding one. Even the discussions I've wanted to engage in around films that missed for me have been worth having. A lovely mixture of indie and blockbuster fare. I have a good feeling about the rest of the year.
So that's that. A nice send-off as I head on down to San Diego Wednesday morning for the annual Comic-Con International. More from the ground there throughout the week, but for now, consider it a big thumbs up for Cap. Well worth the look this weekend.
[Photo: Paramount Pictures]