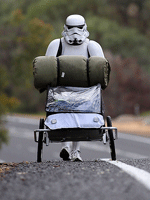 …and a thinner Con, at that.
There was very little on the convention schedule that grabbed my attention when it was released last week. I'll be on hand for the Fox panel tomorrow, hoping to get some good vibes from Ridley Scott's "Prometheus." I'll be there for Paramount and Steven Spielberg on Friday when we all get a glimpse of "The Adventures of Tintin: The Secret of the Unicorn." I'll definitely be on hand for Francis Ford Coppola's first appearance here on Saturday when he brings a slice of "Twixt," and, of course, I'll saddle up to the Entertainment Weekly "Visionaries" panel, this year featuring Jon Favreau and Guillermo Del Toro.
Speaking of Del Toro, I'm intrigued by "Pacific Rim" enough to poke into the Legendary Pictures panel (which won't be in Hall H, interestingly enough). I also feel the need to check out the "Beavis and Butt-Head" event (as the terrible twosome will be back on MTV later this year and I am, I must confess, a die-hard). Maybe I'll make it to Relativity's "Immortals" event, maybe I'll head to the Hilton Bayfront tomorrow morning for a focus on makeup artist Rick Baker, but I've literally just given you my role call of interests this year, easily half the amount of events on my list in years past.
I have to duck out on Friday and come back to LA for a Soundgarden concert, so no Sony panel for me. I could have made it, but the hassle was just unappealing. And really, beyond "The Amazing Spider-Man," which seems to have shown its hand with the trailer already, there isn't much I feel I'm missing there. I don't think a "Ghost Rider" sequel is ringing anyone's bell, and the less I think about the "Total Recall" remake, the better.
There's also a "Cowboys & Aliens" screening Saturday night, as Universal hopes to mine the goodwill it found last year when bowed "Scott Pilgrim vs. the World" here. I'm looking forward to that, but tracking on the film is quite low and press are being asked to hold reviews until opening day, so who knows what's in store? But I was really pumped by what Favreau showed of the film last year, so I'm still holding out hope that it's a winner.
Marvel will be saving all of its "Avengers" shenanigans for D23, so that's a bummer. Warner Bros. opted out of having a presence this year, which is unfortunate, since it would have been the perfect chance to bring a little of "The Hobbit: An Unexpected Journey" to the choir. But that's really just the point, isn't it? Hollywood is slowly realizing this event is a sliver and the anticipation it truly generates in a difference-making sense is minimal (despite the breathless claims by some that "Iron Man" got a massive bump out of here four years ago).
Meanwhile, I think TV needs to strike while the iron is hot. Some genius decided having "Game of Thrones" in Ballroom 20 (with lines snaking around the convention center) and sticking "The Cleveland Show" in Hall H made sense. TV has outgrown film enthusiasm here, and it's only going to get bigger. I think that's a real story, and it's time to move those shows out of the Ballroom ghetto.
In any case, that's really it. It will (mercifully) be a laid-back Comic-Con for me this year. I'm looking forward to laying off the throttle for once and maybe finding something on the crowded showroom floor that makes me feel like I did before it was all such a blatant production.
We'll see.
[Photo: Denver Post]