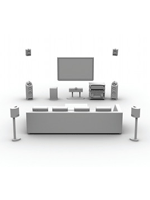 I would love to have attended last week's Dolby seminar "Surrounded: 7.1 Cinema and Beyond." I've been eager to read more about it, but unfortunately it seems the press that did attend haven't bothered covering it in any real fashion (unless I'm missing something). Leave it to the folks at SoundWorks Collection to cut out the middle man and give us a direct hook-up.
As more and more movies begin to use 7.1 mixing, the conversation is worth amping up (no pun intended). This year's "Transformers: Dark of the Moon" is the sterling recent example of the dynamic possibilities at hand. While everyone is obsessed with 3D and candy for the eyes, there is a lot of candy for the ears with stuff like this.
I haven't been able to set aside an hour to watch the panel myself yet, but I will as soon as I can. For now, I'll offer it up for you here. Again, thanks to the SoundWorks Collection for great legwork, as usual. Check it out for yourself after the jump.
[Photo: Dolby]