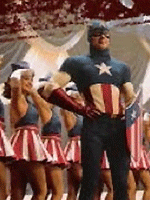 When Alan Menken was tapped last year to provide an original song for Joe Johnston's "Captain America: The First Avenger," I had no idea how that made any sense. Not that Menken isn't able to branch out of his typical milieu, but it just didn't really compute for this material.
When I finally saw the film (more when the embargo lifts tomorrow), it all clicked perfectly. "Star Spangled Man" is a rah-rah U.S.O. tune akin to something like "Over There" or what have you, and it's right up Menken's alley. So, as it turned out, they wanted him for what he's best at: song and dance numbers.
The song — which could earn Menken a record-tying 20th Oscar nomination if the Academy's music branch thinks it's deserving — plays over a montage in the film and, given that, will be a stand-out exhibition when they screen the eligible tracks in the context of the various films at year's end. So, watch out.
Have a listen to "Star Spangled Man" below. And remember, once the Best Original Song race begins to heat up later this year, be sure to keep track of everything via the category's dedicated page here.
[display_podcast]