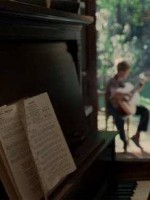 After two internet-free weeks in the Italian countryside, I'm gradually sifting through recent film news and coming to the conclusion that I chose as good a fortnight as any to drop out of the world. (File "Cars 2" and "Transformers Trois" under Things That Can Wait; ditto the Oscar-motivated fang-sharpening of rival Glenn Close and Meryl Streep camps.)
The fact that I returned home days after "The Tree of Life" finally hit UK theaters, prompting a fresh gust of ooh-ing, aah-ing and arguing, only enhanced my sense that Terrence Malick's arthouse blockbuster is the only true movie event of the summer thus far, so forgive me for making it the subject of yet another post, but I thought it was worth drawing attention to two unrelated snippets on the film.
Particularly welcome is this LA Times piece that delves into the film's spectacular soundtrack — where Alexandre Desplat's typically intelligent original contributions nonetheless take a back seat to the dense collage of interpolations of existing classical music that is customary for a Malick film.
"The Tree of Life" serves up his broadest such musical menu to date, pinching from the work of over 30 different composers — including such standards as Bach and Mahler, but also several more esoteric and contemporary names. Among the five selections singled out by the Times's David Ng is the one that most sharply stopped me in my tracks when it appeared in the film — not just because it's by my favorite modern composer, but because the piece in question is so strongly tied to the memory of another master filmmaker:
"Lacrimosa" from "Requiem for My Friend" by Zbigniew Preisner.

The Polish composer is best known for his film music, and "Requiem" was written as a farewell to his frequent collaborator, the late movie director Krzysztof Kieślowski. The "Lacrimosa" is featured prominently in the "The Tree of Life's" most talked-about sequence — the birth of the universe. Malick's depiction is a visually impressive series of galactic explosions and roiling nebulae. That the director chose a requiem to score the sequence shows just how closely he associates birth and death. It should also be noted that Malick sees no apparent contradiction in using overtly religious music for a sequence involving the big bang and the beginnings of cellular life.
I'd love to know how intentional that hat-tip to Kieślowski is on Malick's part — more than a little, I suspect — but either way, the Preisner composition's built-in connotations of human and artistic loss add a subtle layer of subtext to Malick's own concerns with mortality in that scene. It's exciting to see existing music being recontextualized and repurposed in more and more films these days (especially with agile composers like Desplat creatively working around them), which is yet another reason the Academy's definition of scoring is starting to look a little fusty. (Last year, in particular, films like "I Am Love," "True Grit" and "Black Swan" made a strong case for the reintroduction of the Best Adapted Score category.) Anyway, read the rest here.
On another note, for poster geeks like me, The Guardian not-so-recently kicked off a most welcome series of poster analysis features with a thoughtful breakdown of the film's widely admired mosaic-style one-sheet — the one, indeed, that we gave away a few weeks ago. I've never been as high on the poster as most others are (I'm keener on the large baby-foot design myself), but Paul Owen's analysis, focusing principally on the modified UK quad design, has prompted me to look closer at the thematic and compositional implications of the selected stills:
The instantly recognisable and bankably attractive features of one of the world's most famous actors are concealed behind a baby's foot and Pitt's own hand. That's a brave move commercially, but in foregrounding the baby it does seem to reflect the way the film is more focused on Pitt's effect on his children's lives than in theirs on his.

Hands are a recurring theme, resulting in some unusual images: a butterfly landing on Jessica Chastain's palm in the top-left corner, a soaped-up boy raising his fists in the bath bottom-left, a much older hand (it is Sean Penn's) reaching calmly for a stream of water on the right-hand side.
More here. And more from me (on some fresher films, I promise) soon.
[Photo: Fox Searchlight]