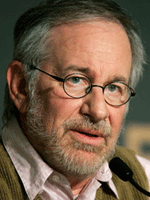 I'm still wishy-washy on Comic-Con this year. I'll be there for this and that, but I'm not that jazzed about extensive coverage. But this nugget is worth noting. Via the LA Times' Hero Complex:
The Oscar-winning director who ushered in the blockbuster film era with "Jaws" and brought sci-fi to the masses with movies such as "E.T: the Extra-Terrestrial," "Close Encounters of the Third Kind" and "Minority Report," will make his first appearance at Comic-Con International when he takes the stage in Hall H July 22.

The 64-year-old filmmaker will receive an Inkpot Award, which has been presented since 1974 to signature figures in comics and genre entertainment, among them Ray Bradbury, Jack Kirby, Hayao Miyazaki and R. Crumb.
Naturally, he'll also be screening footage from "The Adventures of Tintin: The Secret of the Unicorn."
Coppola and Spielberg at Comic-Con. Paramount should have cooked something up for "Hugo" and got Scorsese in on the action, too.
[Photo: Forbes]