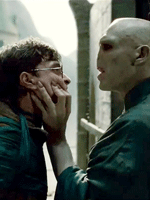 I'll make this brief.
"Harry Potter and the Deathly Hallows: Part 2" hits this weekend. It will be massive. The devoted will turn out and love it. The sense of grand closure will settle for many. But I'll just have to cop here at the beginning to the fact that I cannot connect the dots on this series and likely never will.
I suppose I'll just focus on what I did enjoy about the latest film, which I saw last night, rather than wallow in the overall displeasure. Who wants to be a spoilsport? A party-pooper? A wet blanket? A kill-joy? A fuddy-duddy?
Mercifully, the film clocks in at just over two hours, rather than blowing right on past the two-and-a-half-hour mark like most of the other films in the franchise. And since it's largely built around action sequences and an overall vibe of suspense, it moved along nicely. I liked that.
Ralph Fiennes gives the performance that should be talked about in this film (not Alan Rickman, who is fine as always, but is getting a bit of an exaggerated wind in his sails based on his character's arc). Ever since his first appearance in "Harry Potter and the Goblet of Fire," Fiennes seems to be the actor who both relishes the part and gets the delirious absurdity of it all. And he's fantastic. I liked that.
David Yates finds a few interesting directorial strokes that I think have been absent from his work on the series since "Harry Potter and the Order of the Phoenix," whether it's the first ominous image of Hogwarts flanked by Death Eaters or the careful use of sound (or lack thereof) amid the chaos of battle. I liked that.
Maggie Smith gets to be a badass. I liked that.
The production value is once again top-notch, specifically Alexander Desplat's delicate score and Stuart Craig's detailed production design, as well as some of the best effects used in the series to date. I liked that.
So that's one, two, three, four, five things I liked. Hey, that's pretty good, right? Wait. Just allow me to put forth at least one quibble.
SPOILERS
With something like $7 billion and counting, would it have killed them to invest in a little performance-capture for the 19-years-later coda, which as it is asks the audience to buy these characters as significantly older with little more than a belly for Rupert Grint, some sideburns for Daniel Radcliffe, some dodgy makeup for Tom Felton and, well, nothing at all for Emma Watson?
END SPOILERS
And so it all ends. Finally. What will the legacy of these films be beyond box office? It's left to be seen. But they are not for me. I don't know that I'll ever re-visit them, unless I happen to have a child who latches on.
Congratulations to everyone who made a boatload of money on the series. It makes the world go 'round.
[Photo: Warner Bros. Pictures]