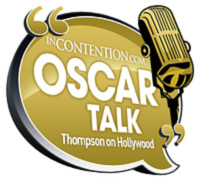 Welcome to Oscar Talk.
In case you're new to the site and/or the podcast, Oscar Talk is a weekly kudocast, your one-stop awards chat shop between yours truly and Anne Thompson of Thompson on Hollywood. The podcast is weekly, every Friday throughout the season, charting the ups and downs of contenders along the way. Plenty of things change en route to Oscar's stage and we're here to address it all as it unfolds.
A month and a half since the last off-season podcast, we take the temperature one more time this summer, right at the year's mid-way point. There have been some Academy rule changes and some news and notes in the interim, so let's see what's on the docket today…
• The summer's rule change of note was the fact that films must be considered the best film of the year (and ranked as such on ballots) by 5% of the Academy to even be eligible for a nomination. The result will leave anywhere from five to 10 nominees, depending. We discuss.
• With half the year behind us, we take a moment to take stock of what could swing back around as Oscar plays later in the year.
• Speaking to Monday's Off the carpet column, we also bat around the idea of Steven Spielberg striking the zeitgeist this year with his name on a bevy of projects, not to mention his own work as a director (including one very baity project).
• The Best Actress race is humming this week with the announcement that the Glenn Close-starrer "Albert Nobbs" has found distribution, as well as the release of a teaser trailer for "The Iron Lady," featuring Meryl Streep as Margaret Thatcher. We dig in on that.
• Though nothing on the schedule appears to be Oscar-likely, we nevertheless preview Comic-Con, coming in a week and a half.
• And finally, reader questions. We address queries regarding the animated feature film race, The Weinstein Company's potential coming off major Cannes success, personal anticipations and thoughts on what may already be over/underestimated.
Have a listen to the new podcast below, with a bit of John Williams's original score for "War Horse" leading the way. Apologies for my fan in the background. It's HOT! If the file cuts off for you at any time, try the back-up download link at the bottom of this post. And as always, remember to subscribe to Oscar Talk via iTunes here. (NOTE: There's something fishy with our iTunes feed lately. We're on it. Sorry for the inconvenience.)
[display_podcast]

Back-up download: Oscar Talk Episode 57