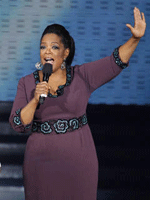 UPDATE (6:40pm): Naturally, the Academy denies all this. Why would they confirm even if it was true? Why kill the suspense now? Anyway…
EARLIER: Sasha Stone Twirected (get it? Tweet + directed?) me to a Chicago Sun-Times story that says Oprah Winfrey, fresh off her final daytime talk show stint, could be at the top of the Academy's list of proposed hosts for the 84th annual Academy Awards. And, naturally, it would be a mutually beneficial kind of thing. Writes Bill Zwecker:
If the widely seen gig is accompanied by a behind-the-scenes special and a post-Oscars show airing only on the Oprah Winfrey Network, it would give the struggling cable channel some added exposure. But I'm hearing that is a very separate potential deal.
Furthermore, Zwecker says the feeling is that Winfrey would greatly expand the audience potential for the show, a continuous issue of debate and consideration behind the scenes.
I'm well on the record for who I'd like to see emcee the telecast, but as for this possibility, meh. I guess it's tolerable. It would probably be a good idea. At the very least it would be fresh and yet not reek of desperation like the Hathaway/Franco tandem did last year. What do you think?
[Photo: Chicago Sun-Times]